Almond butter raw cookie dough bites.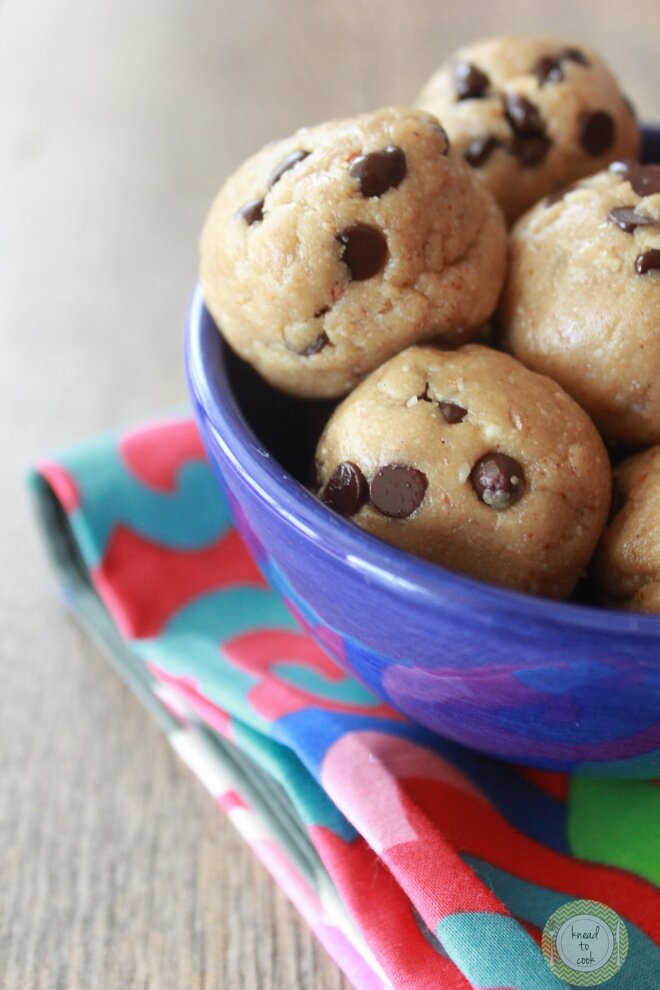 Happy Tuesday!!!  It's going to be a good day.  I'm finally on the mend from the cold/laryngitis that's been plaguing me.  I got a good night's sleep.  I ran outside in shorts (yes this is a feat for Pennsylvania after this horrible winter) and I ran 8 hilly/windy miles this morning in the rain.  I was still sub 8 minute mile, which was good, not my fastest but I realize I'm still on the mend.  This month, I'm bound and determined to run outside versus the treadmill, which I've become quite attached to over the past three months thanks to Mother Nature.  I felt good pushing it and left it all on the road – it was simply all I had.  Now to keep building from that.  
Other news… I admit, I come from a long line of car aficionados.  My grandfather was obsessed with cars back in the day (40's and 50's) and always sported the very best, coolest, hippest cars.  I just love that despite not meeting him (he died when my dad was a teenager) I cherish the pics I have of him with his wheels.  My uncles and my own father… all car obsessed.  I think I have some weird car gene that was passed onto me.  Did I mention that when I was in high school and had that weird "career path" test that tells you the best fields to get into I got car mechanic?  Ha ha!  Seriously!  I did.  But I digress, I love them but as I've gotten older, and wiser, I realize that I need something safe with great gas mileage that isn't inhaling premium gas every time I hit the gas pedal (did I say I have a need for speed too?).  Ohhhhh my father is very proud (ha ha). So after exhausting research – no lie I asked people on the streets with the cars I liked what they thought, test drives, annoying questions, brochures, internet research, overthinking way too much… oh how I hate buying cars- we are picking up our brand new 2015 wheels tonight!  Great gas mileage along with speed, safety and all the bells and whistles – I'm excited!  My poor husband will be a bit remorseful giving up his convertible, especially with spring weather finally approaching but we are thankful this endeavor is over!  As I sit here typing this – my father is in kitchen pouring over the brochure and the features!  Ha ha!  This makes me laugh.  
Finally, this week I'm doing an experiment with my oldest daughter.  I'm removing dairy and gluten from her diet to test a theory.  So far, two days into it… I'm already seeing a vast improvement.  So with my test, I know I have to produce really good, delectable treats that she will eat and not miss her daily yogurt or whole wheat bread.  I'm working on finding or making the perfect gluten free bread that she will deem "acceptable" and not gross.  My battle of the week!  But treats… I make many gluten free treats that she loves but this week I'm stepping it up.  We all love raw cookie dough bites/energy balls I make and I saw this recipe in Oh She Glows cookbook and thought I would give these a try.  Totally vegan.  No dairy.  No gluten.  The perfect test!  I also used Enjoy Life's chocolate chips (dairy free) so she would have her chocolate and not miss that either.  They came out great and I think only 4 remain which means I need to make another batch.
Perfect snack to make and store in the fridge or freezer for snack attacks.  Filled with protein thanks to the nut butter.  Hope you give these a try!
Adaptation from Oh She Glows Cookbook
Ingredients:
1.5 cups of gluten free old fashioned oats (I used Bob's Red Mill)
2 tablespoons of melted organic coconut oil
2 tablespoons of creamy nut butter (I used Justin's Almond Butter – Maple flavor)
1/4 cup +1 teaspoon of maple syrup (you can use agave or honey if making a vegetarian version)
1 teaspoon of vanilla extract or paste
1/2 cup almond flour or meal (if you don't have this in your blender process the almonds until a fine flour forms)
1/4 teaspoon fine sea salt
3 tablespoons of chocolate chips (I used Enjoy Life dairy free chips)
Directions:
In your blender or Vitamix, process the oats until a fine flour forms.
In your stand mixer, with paddle attached, cream the nut butter, oil, syrup and vanilla until very smooth (2 minutes).  Then add almond flour, oat flour and salt.  Cream until the mixture is well blended.  Mine seemed a bit dry and I added a bit more maple syrup (or you can add a tiny bit more oil).  Just watch the dough and determine if you need to add more moisture.  The dough should be able to be rolled into small ball shapes.  Then add your chocolate chips.  They tend to sink to the bottom of the mixing bowl so I just incorporate them by hand and press them into the dough.  Roll and repeat until all of the dough is used.  Store in an airtight container and freeze or refrigerate.  I prefer the fridge.  Eat and enjoy!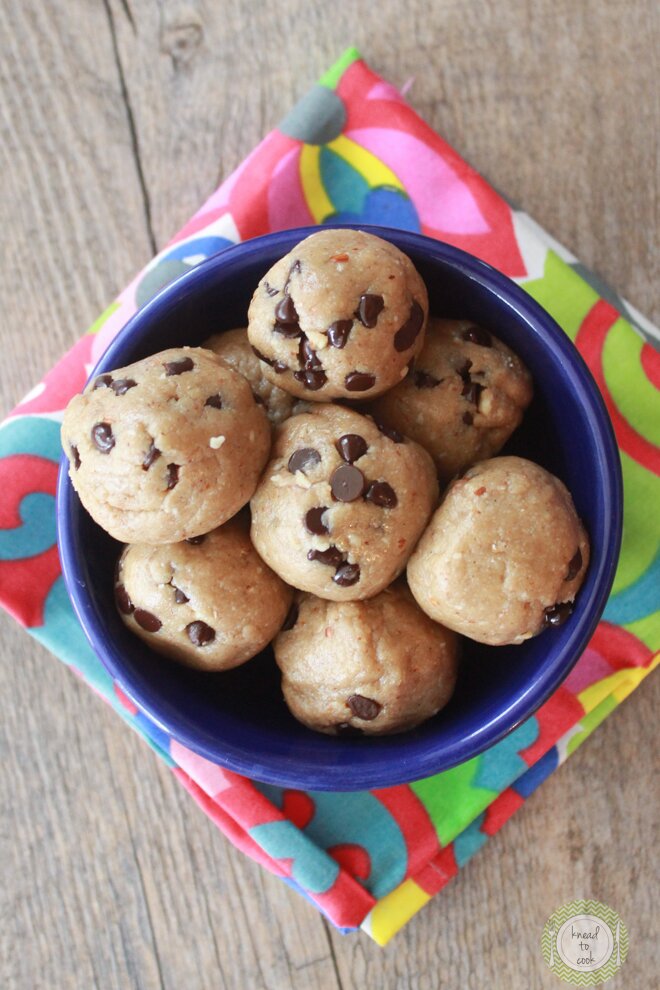 — Knead to Cook