African Peanut Stew. Vegan. Gluten Free.
I think I have about 6 different recipes for African Peanut Stew. It is one of my favorites although I realized that I had gone all winter without making it. How could it be? Well, thousands of recipes in my kitchen, then the new creations… it just got lost in the shuffle I suppose. Then when my husband bought me Oh She Glows cookbook I saw her recipe and I went on a hunt for my recipes and just thought I would meld them all and make yet another version (add that to my collection).
Today is finally gorgeous!!! The sun is out and I just got back from a walk with my dad and the two dogs. It is just cool enough not to be hot and the sun is shining and it just lifts your spirits! Got my workout in at 5 am this morning – taking it easy on my legs as I ran 8 yesterday and plan a long run tomorrow. Trying to use logic and stop beating them down incessantly. I'm also trying to embrace some long slower runs to actually enjoy running. It's all a metamorphosis and I'm learning. But I thought on my walk about which recipe to share and this one came to mind! It's a total winner.
Okay so onto the recipe. Perfectly easy and oh so tasty. My kids LOVED it. Protein-packed, gluten free (because I'm still experimenting with my daughter's diet) and I opted to use a new product find by Peanut & Co. – The Heat is On and it certainly is. It added just the right amount of kick to this awesome soup. I highly recommend it!
2 tablespoons or so of olive oil
1 large yellow onion, diced
5 cloves of garlic, peeled and minced
1 jalapeño, diced and seeded
1 bell pepper (any color will do), seeded and chopped
2 medium sweet potatoes, peeled and chopped
1 -28 ounce can of fire roasted tomatoes with juice
1/3 cup of peanut butter (see photo above)
4 cups of vegetable broth
Salt and pepper
2 teaspoons of chili powder
2 teaspoon of smoked paprika
1/4-1/2 tsp depending on your preference, chili cayenne powder
1 -15 ounce can of chickpeas
2-3 handfuls of baby spinach or baby kale leaves, washed
Cilantro for garnishing (optional)
Peanuts for garnishing (optional but necessary in my opinion)
Directions:
Heat the oil in a large Dutch oven and once hot, add your onions and cook until translucent. Then add the garlic for about 30 seconds. Stirring frequently. Add the jalapeño, bell pepper, potatoes and the canned tomatoes. Give that a good stir.
In the meantime, in a small bowl whisk the peanut butter and 1 cup of broth together until completely blended. Then add this mixture along with the other 3 cups of broth to your pot. Add your seasonings. Cook for about 30-45 minutes or until the sweet potatoes are fork tender. Then add the chickpeas and spinach/kale. I turn the temperature down and simmer until ready to serve.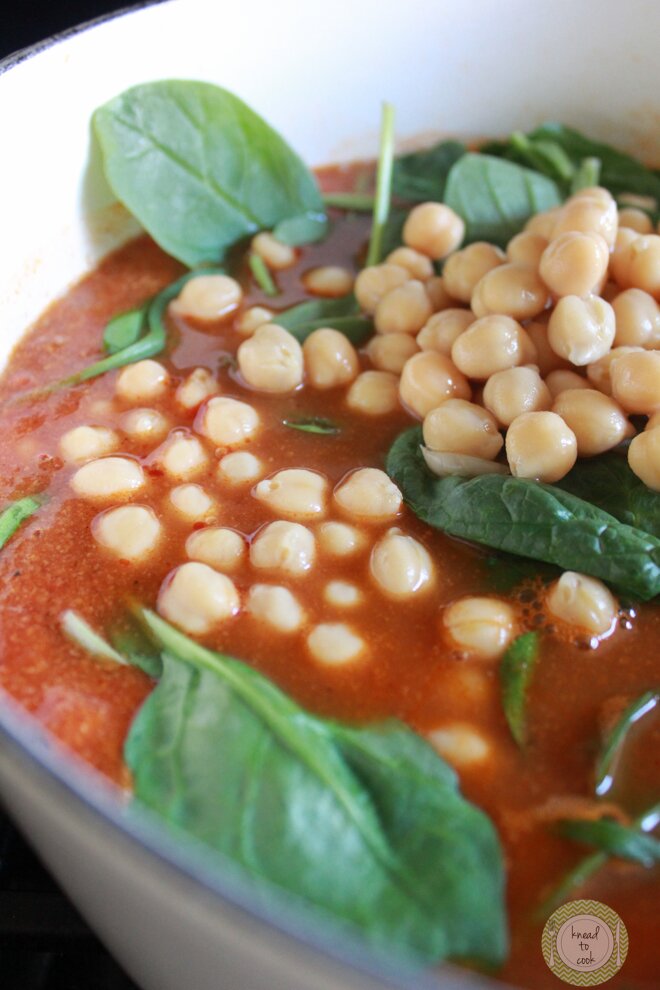 When serving, top each bowl with some cilantro leaves and about 1/4 cup of chopped peanuts (or less).
— Knead to Cook