White Bean and Red Lentil Burger. Vegan. GF.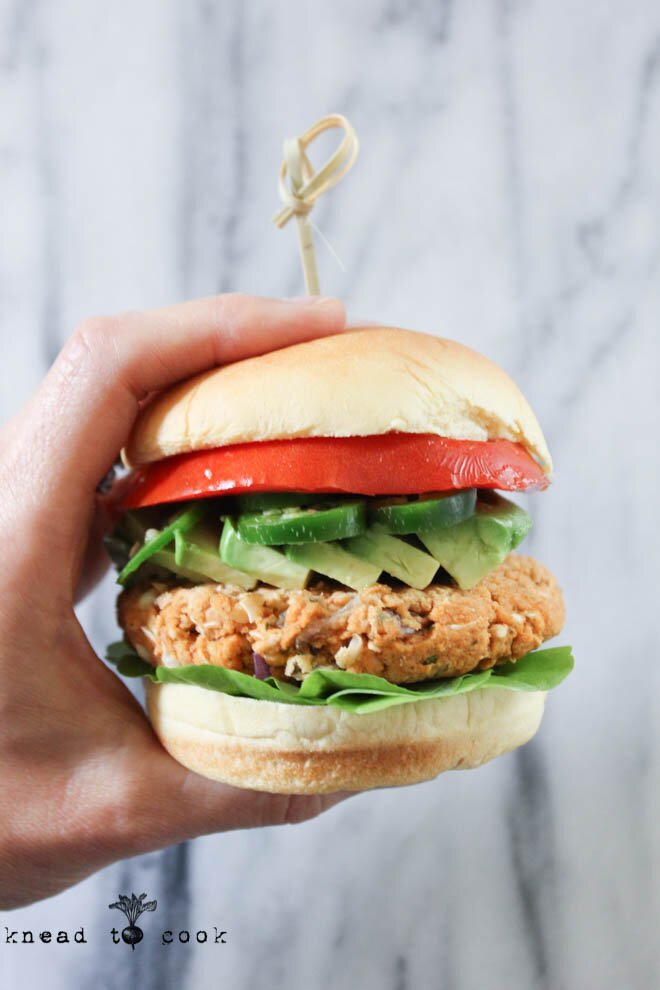 Oh Thug Kitchen creators you are one of my favorites.  If you don't have their their cookbook… I highly recommend their snarky yet hysterical rhetoric and insanely delicious recipes.  This recipe is one of the best vegan and gf burgers I've had and this recipe makes plenty of burgers (4-6 regular size or 8 sliders).  And a bonus… these burgers freeze beautifully so prep ahead meal planning.  Another benefit, they are jam-packed with vegan protein – winner winner vegan dinner!
Recipe based on Thug Kitchen's recipe.
Ingredients:
1/3 cup of red lentils (I used organic)
2/3 cup of vegetable broth or water
3 cups of white beans (I used organic, BPA-free canned)
5 cloves of garlic, minced
1 jalapeños, minced
1/2 cup of gluten free bread crumbs (regular if you don't want gf)
2 teaspoons of smoked paprika
1/2 teaspoon garlic powder
1 teaspoon of ground cumin
1 tablespoon of olive oil
1/2 teaspoon salt
Grated lime zest (one lime)
Coconut cooking spray
Your favorite burger toppings/buns etc.
Directions:
Combine the lentils and broth or water, in a medium saucepan and bring that to a boil.  Reduce the heat and simmer until the lentils are soft and the water is absorbed for the most part – this takes about 11 or so minutes.  Drain any excess water and let the lentils cool.
In your stand mixer or large bowl, add your beans and using the paddle attachments – mash the beans to a chunky texture.  Then add the remaining ingredients through lime zest.  Shape into the patty size your wish to make.  I love making sliders.  Place on a platter and cover with plastic wrap.  Refrigerate for 30 minutes or several hours until ready to bake.
Preheat your oven to 400 degrees.  On a baking sheet I spray coconut oil.  Place the burger patties on the pan and spray coconut oil on each patty. Bake for 20 minutes then flip each burger – spraying the other side and bake for another 15 – 20 minutes.  Remove and plate with your favorite burger toppings.



And with that September has come to a close.  Wow.  I will admit tapering the last weeks of a month when you have a large goal is quite challenging but with some maneuvering- I was able to hit my target.


So this week in taper town continues and I'm cherishing every mile I get to do.  I will admit, I miss running my 20 something milers.  I never thought I would say that.
Sunday: outdoor run
Monday: outdoor run
Tuesday: rest day
Wednesday: rainy, humid outdoor run
That's it from here.  Hope you have a lovely Hump Day and last day of September.

— Knead to Cook