Smoked Paprika Beef Stew in the Crock Pot.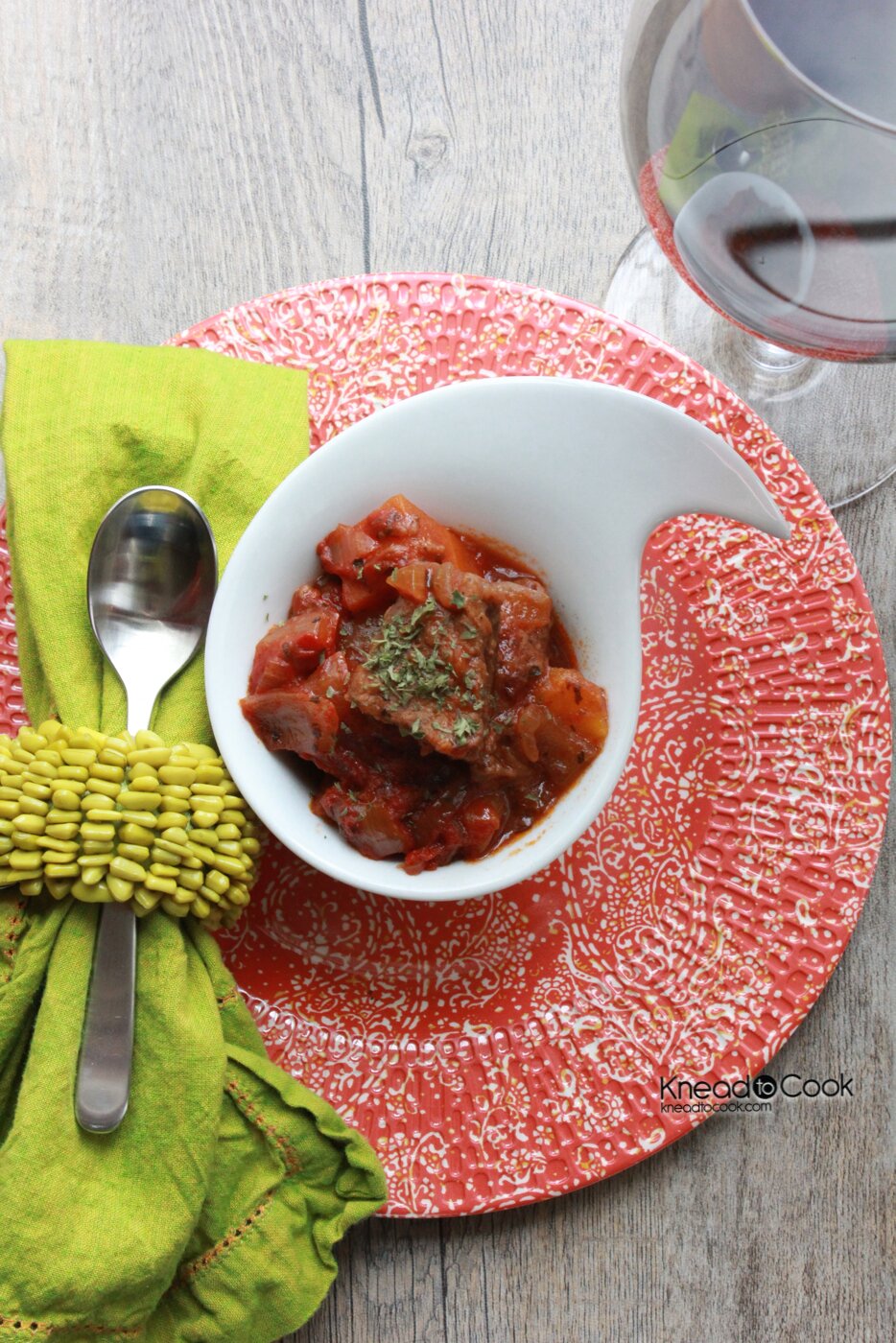 It is one of those days.  We all have them & I'm learning to despise them. I literally didn't stop for one minute to enjoy this sunny, beautiful day until now (the windows flank my computer).  I sprang from my bed at 4:30 am & haven't stopped.  I did, however, manage while making my lunch, to whip up a batch of Smoked Paprika Beef stew and get it in the crock pot to work its magic while I ran Easter shopping and carpool.  This recipe is very forgiving.  You can wing it and it will turn out beautifully.
Ingredients:
1 cup of all purpose flour (I use King Arthur Flour)
2 tablespoons of smoked paprika
1/2 teaspoon of salt
Ground pepper
2 teaspoons of olive oil
2-3 lbs of chuck or stew meat cubed
1 large onion, diced
1 small can of tomato paste
1 cup red wine
2 cups of beef broth (I use low sodium)
4 medium potatoes, cubed (sweet or regular)
4 carrots, peeled and chopped
1 bay leaf
Parsley (fresh or dried)
Directions:
In a large bowl, mix your flour, paprika, salt and pepper.  Add the beef cubes and toss to coat.  In the meantime, add some olive oil to a sauté pan and turn the heat up to medium or so.  Add the coated beef, in batches, and brown on each side.  Remove and set aside on a plate with a paper towel (to drain).  Then add the onion and paste.  Stir and cook for 4-6 minutes.  While that's cooking, add the carrots, potatoes and beef to your slow cooker turning that to low (6 hours) or high (4 hours).  Then add the onion/paste mixture.  Return the pan to the stove and add the wine and scrape up the bottom bits (deglaze the pan).  Cook for 2 minutes.  Then pour over the top of the meat/veggies in the crock pot.  Add the additional broth and spices.  Cover and cook.  Adjust spices and serve over rice or noodles… whichever you prefer.  A good red wine and crusty bread will make this dinner perfect!
— Knead to Cook