Fresh grilled chicken with oranges, avocados over a bed of Napa cabbage with a peanut sesame lime dressing.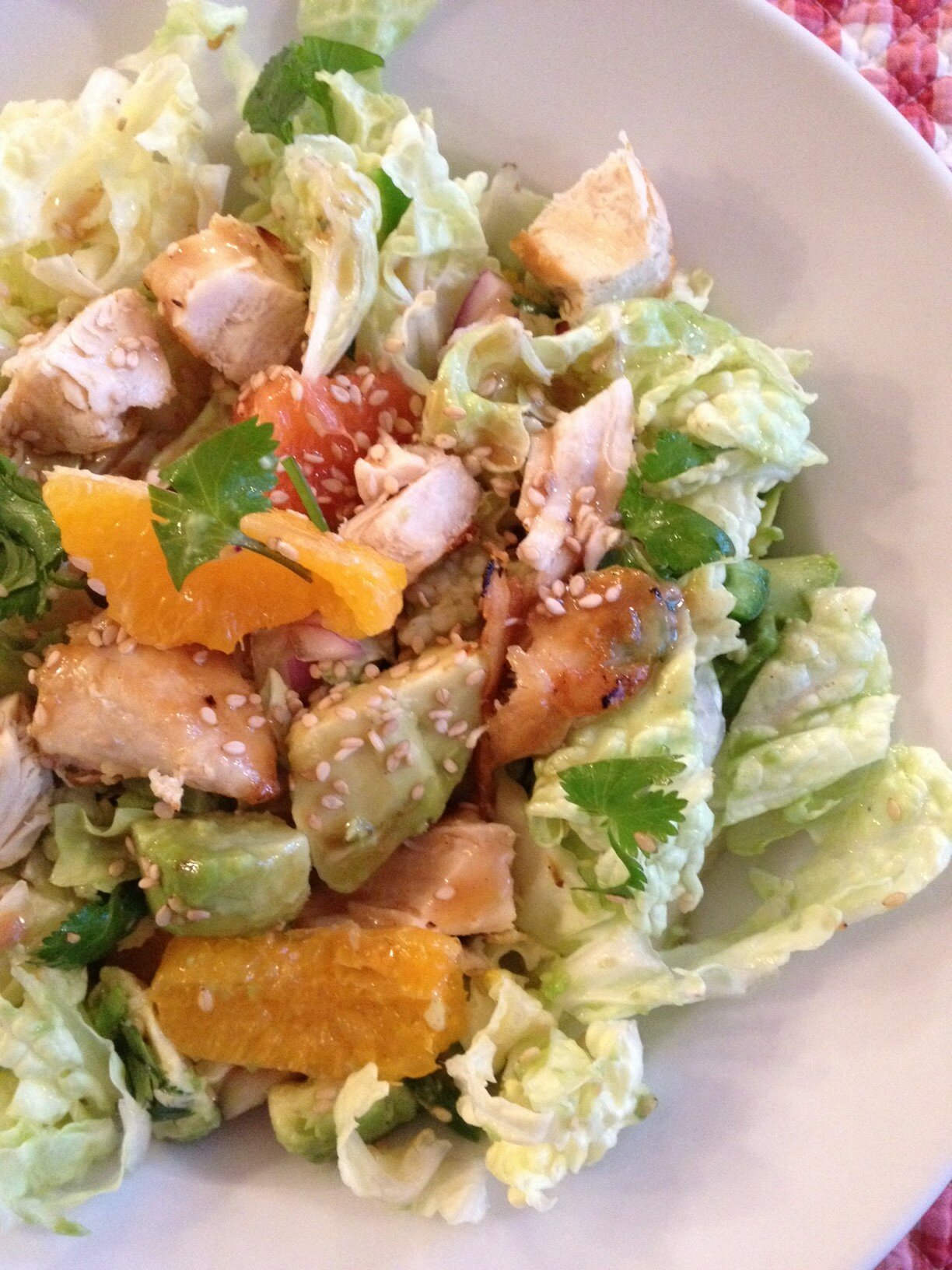 Light & refreshing is exactly what we all needed tonight.  Kids just got home from a killer swim practice and I needed something easy (busy day) and something light that wouldn't weigh me down.  This was perfect 🙂
Ingredients for the salad:
1 head of Napa cabbage, shredded finely
4-5 chicken breasts (enough to serve your family)
4 oranges, peeled and sliced
1 jalapeño, diced with seeds removed
1/4 of a red onion, finely chopped
1/4 c of cilantro leaves, washed and rough chopped
2 tbl fresh lime juice
2 avocados, pitted and diced
1 tbl of sesame seeds (garnish)
Directions for the salad:
In a large bowl mix the Napa cabbage, oranges, jalapeño, red onion, and cilantro.  Set aside.  In a small separate bowl, add the avocado and lime juice.  Toss to coat and set aside.
Grill up your chicken  and then let rest for a few minutes.  Then chop into bite sized pieces.  Add to the salad.
Ingredients for dressing:
1.5 tbl of peanut butter
3 tbl of fresh lime juice
1 tbl seasoned rice vinegar
1.5 tbl of low sodium soy sauce
1.5 tbl light brown sugar
2/3 c of canola oil
1 tbl sesame oil
1/8 tsp of salt
Directions:
Put all of the ingredients into a tupperware container or container with a lid.  Shake to combine and then add to the salad.  Toss well.
Finally, add the avocado/lime juice to the salad.  Toss one final time and then garnish with some toasted sesame seeds.
Enjoy!
— Knead to Cook