Roasted tomato balsamic sauce with spring onions.
Meatless Monday and super easy dinner idea. Vegan. Gluten free. Totally healthy sauce that is perfect after a long weekend of food festivities with Easter and/or Passover. Me personally, I believe I ate my body weight in Indian food. We went back home for Easter and went out to dinner with good friends Saturday night. We feasted on Indian food and had the leftovers for Easter dinner – my husband's family isn't vegan so it worked out perfectly.
Zoodles – noodles cut by a spiralizer tool replace traditional gluten-filled pasta. It also is a fun way to get your family to eat more vegetables. My kids love making zoodles. My favorite veggies to spiralize would be zucchini and carrots. The hold up to the sauce well and heat nicely. Okay onto the recipe…

Ingredients:
8 tomatoes on the vine, washed and quartered
6 spring onions, washed and trimmed
Olive oil
Salt
Pepper
Pinch of Rosemary
1/4 cup balsamic vinegar
Red pepper flakes
8 fresh basil leaves
Directions:
Preheat your oven to 325 degrees. Take a broiler pan or a sided cookie sheet and drizzle a bit of olive oil on the bottom of the pan. Place your tomatoes and spring onions on your baking sheet. Drizzle with a bit of olive oil, salt and pepper and Rosemary. Roast for 3 hours. Remove and place the tomatoes/onions into a saucepan.
With a hand immersion blender, blend the tomatoes (add fresh basil) down to a sauce. Add your balsamic vinegar, salt, pepper and a pinch of red pepper flakes. Give that a good stir and simmer until ready to serve.
If making zoodles, prep your veggie of choice. Make those and then add them to your sauce to warm up and soak up the flavors of the sauce. Serve alongside a salad or with your favorite bread.

Saturday's run was fun (insert sarcasm). I got out early because we were hitting the road first thing before the Easter traffic started. Plus my 16 year old was going to be driving the entire 2.5 hours north so we wanted to be on the road early. My run was so windy… 25 mph. I tried a little speed work. It literally left me breathless. What doesn't kill you makes you stronger… right?


Today's run was beautiful. Warm. Sunny. Just perfect. And I got to wear my new Pro compression heather fresh compression socks. Love them!
Okay here's my update. Friday I took off because I had to meet with my jeweler and then prep food and pack for our Easter weekend.
Saturday: 5 miles outdoors
Sunday: Rest
Monday: 6 outdoor miles
My pace is slowly but surely coming around. The one thing I don't remember about the last marathon I did was the decreased speed post marathon during recovery. I had surgery right after my first marathon and didn't have to deal with this at all. I feel like mentally I'm ready to hit the road and bang out major mileage however my body doesn't agree. I'm trying to be patient. My last two runs were sub 9 so I won't complain. However, my heart rate today crept well into the 200's again. I see my cardiologist for testing next week. Stay tuned.
That's it from here. I'm going back outside to sit and enjoy the sunshine and warm temperatures.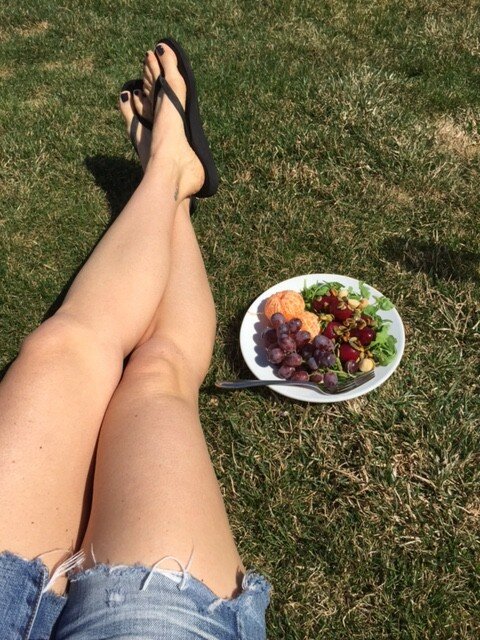 — Knead to Cook