King Arthur's 00 Italian Pizza Crust.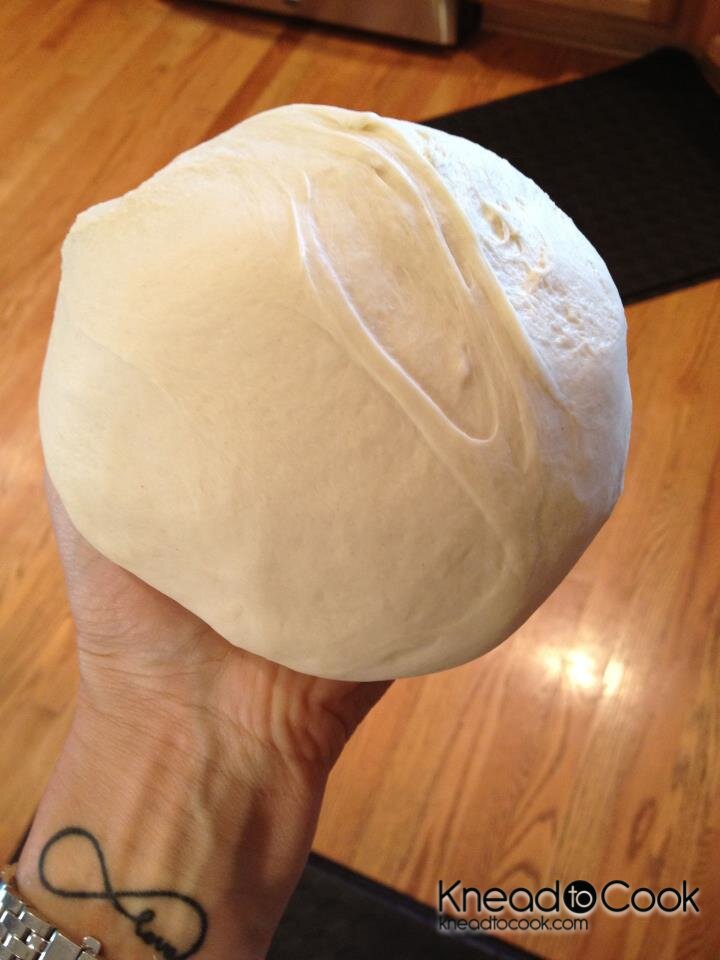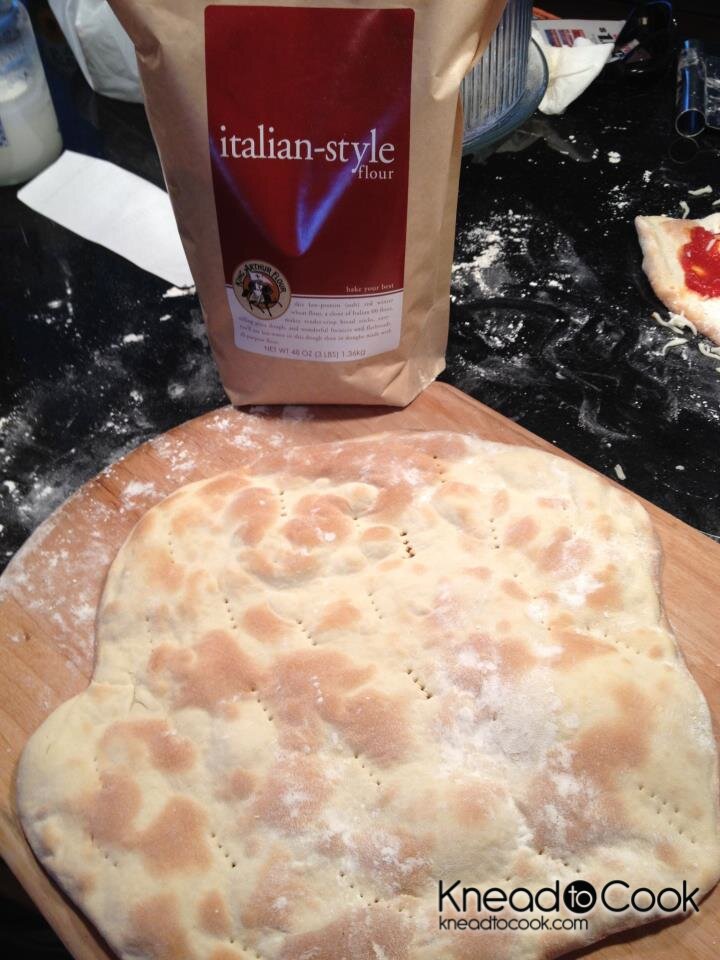 Today my friends at King Arthur's sent me a big box filled with gorgeous flours to try. It was perfect… my daughter has been begging me to make my Mexican pizza and I thought I would try a taco pizza instead. I dove right in and this crust is beyond fabulous.
King Arthur's describes this fabulous flour as the following:
why we love it
American flour is all about its gluten: it's ready for action, headed for the highest rise. This version of Italian 00 flour, on the other hand, mirrors the warm, laid-back climate of its native land. Its protein is not only lower, but much more mellow. Make pizza or flatbread with this flour; you've never worked with such friendly dough! It's incredibly extensible, practically flowing under your hands as you pat it into shape. And the resulting bread or crust? Light as air, tender, snapping crisp or soft as a cloud.
So here is the old 00 pizza recipe that I had on hand. Tried and true… oh so good too. We have NO leftovers remaining. Positive sign that it was enjoyed by my family.
Ingredients:
2 1/4 quarter teaspoons of active dry yeast
1 + 1/8 teaspoon of granulated sugar
1 cup of warm water (110 degrees is perfect)
2 teaspoons of salt
2 tablespoons of a better quality olive oil
3 cups of King Arthur's 00 flour
Directions:
In your measuring cup combine the yeast, sugar and warm water. Let sit on the counter for 10 minutes until frothy. If it fails to get frothy, throw out and start over with fresh yeast. If the yeast isn't active, it won't froth up for you.
Once 10 minutes is over, add the mixture to your stand mixer bowl, dough hook attached, and add the salt and olive oil. Blend for 30 seconds. Then in 1 cup portions, add the flour. Blend well after each cup added. Once everything is in the mixing bowl, turn the speed up to medium and blend. If the dough is too dry, add a few drops of water. Too wet, add a tiny bit of flour. Keep kneading for about 7-8 minutes. The dough should form a large ball onto the dough hook and clean the sides of your bowl. Remove and add the dough to a clean and oiled bowl. Cover with a towel and set in a warm, draft-free location (I usually place it in my microwave). Let rise for 1 hour. Preheat your oven at this point at 475 degrees with your pizza stone. To achieve a nice crusty pizza dough, let it preheat for one hour.
After one hour, remove, divide into 2 (for large pizzas) or 4 (for smaller, personalized size) balls. Flour your surface well and roll out the dough to the desired shape. Prick with a fork all over to avoid bubbles from forming. Place on your pizza stone and pre-cook for 5-7 minutes or just until lightly golden. Remove, top with your favorite sauce or pesto (I used that here) and other toppings and cheese. Return to the oven or outside grill (again 475 degrees) until cheese melts. Remove and slice. Enjoy!
For my taco pizza, I used my pesto recipe for the sauce (find the recipe here) https://kneadtocook.com/?p=889. Then I added organic lean beef that was cooked throughout, sliced tomatoes, cheddar cheese, jalapeños and whatever else you enjoy on a taco pizza. Once cooked, top with cilantro leaves.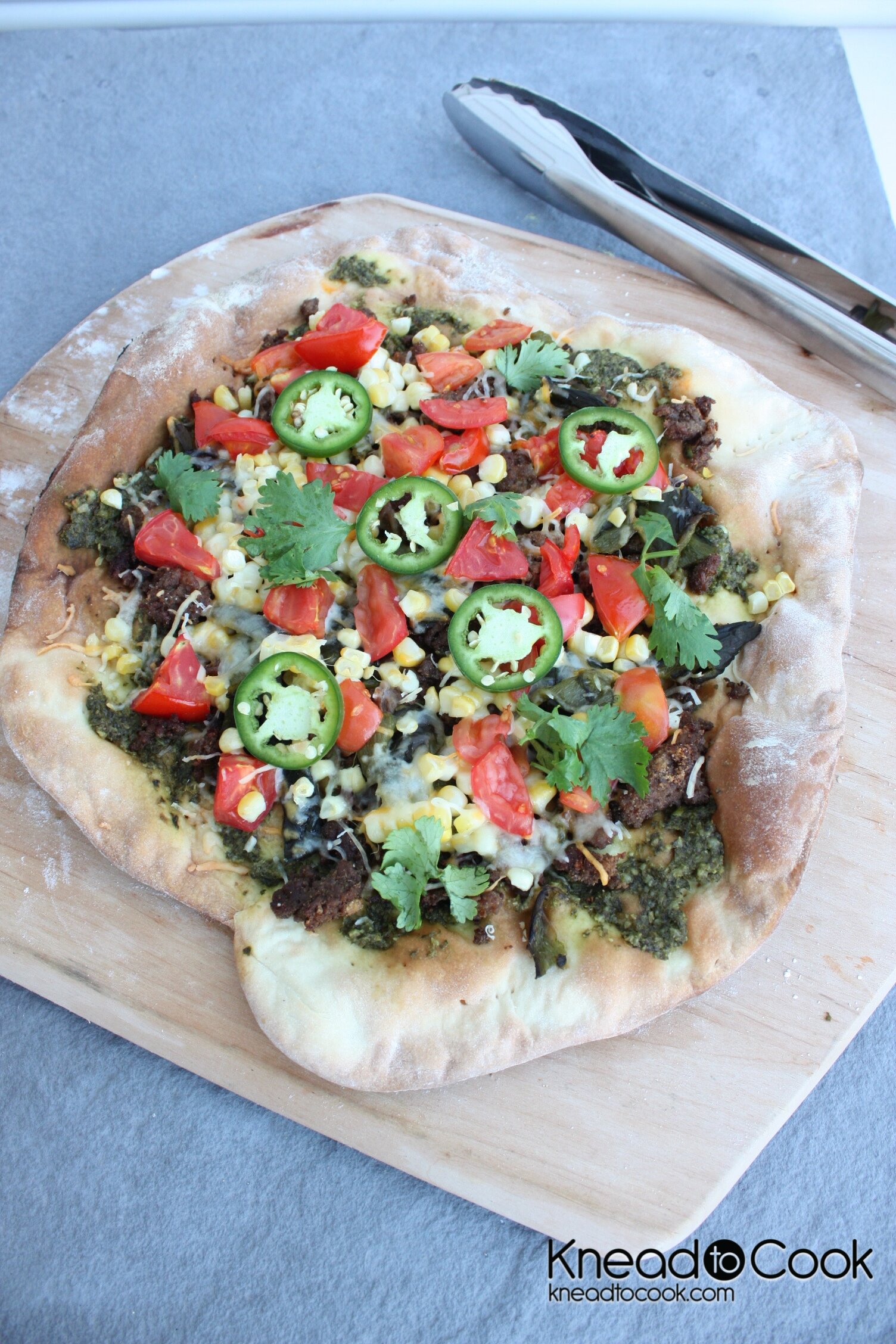 — Knead to Cook