Cranberry Orange Chobani bread.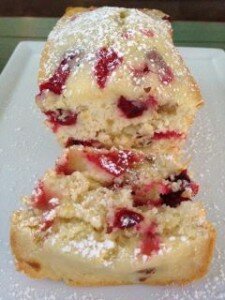 This bread is so yummy!  Perfect during the holiday and it makes a delicious treat for friends and family!
Ingredients:
2 c all purpose, unbleached flour
1 c sugar
1 1/2 tsp baking powder
1 tsp baking soda
1/2 tsp salt
3/4 c of Chobani 2% vanilla yogurt (or use the non fat)
1 egg
1/2 c freshly squeezed orange juice
Zest from one orange
1 tsp orange extract
2 tbl melted butter
2 tbl hot water
1 cup fresh cranberries
1/2 c chopped walnuts
Directions:
In a large mixing bowl combine all of your dry ingredients. In your mixer bowl beat the egg, orange juice, zest, orange extract, butter and hot water together. Add the flour mixture to the wet batter and beat only until incorporated. Add the Chobani yogurt. Mix until blended. Add by hand the cranberries and walnuts. Spoon mixture into mini loaf pans or muffin tins that have been sprayed and floured. Bake at 325 for 50 minutes or until a toothpick comes out clean. I also dusted a few loaves with turbinado sugar from a crunchy top. Cool in the loaf pan for about 10 minutes then remove. Cool the remaining time on a wire rack. Dust with powdered sugar.
— Knead to Cook