Lately I haven't been eating any meat, actually it's been quite a few months since I have.  I haven't had a taste for it so I adjust my sails and go forward.  I'm sadly not a seafood lover but I do love, and have since I was pregnant with my oldest 15 years ago, cold shrimp.  Not cooked shrimp, it has to be cold.  I actually think I love the spicy cocktail sauce more than anything (the shrimp being a venue to get that to my mouth) but as of late, I started venturing out of my comfort zone and this little dish is now one of my favorites that I cannot stop eating.  Hashtag addictive!  Ha ha.  This is the perfect salsa to serve with tortilla chips, as a side or straight up out of the bowl like I do it.  It is so good and so refreshing.  It also proves my point once again, clean eating can be easy, quite tasty and fun.  Plus the longer this has to sit in the fridge, the tastier it becomes.  Easiest recipe ever!
Ingredients:
1.25 lbs of cocktail shrimp, peeled and deveined and then chopped
1 cup or one large handful of fresh cilantro leaves, roughly chopped
1/3 cup of finely diced red onion
1 red bell pepper, chopped into small pieces
2 medium sized tomatoes, diced
1 jalapeño, diced (seeded if you don't want it spicy)
2 limes, juiced (must use fresh)
1 teaspoon (I love ground cumin so I added more) ground cumin
1 pinch of cayenne pepper
Salt and pepper
Directions:
Combine everything through the jalapeño.  Give a good toss in your bowl.  Then add the remaining ingredients tossing.  Taste and adjust seasonings to your preference.  Cover and refrigerate until serving.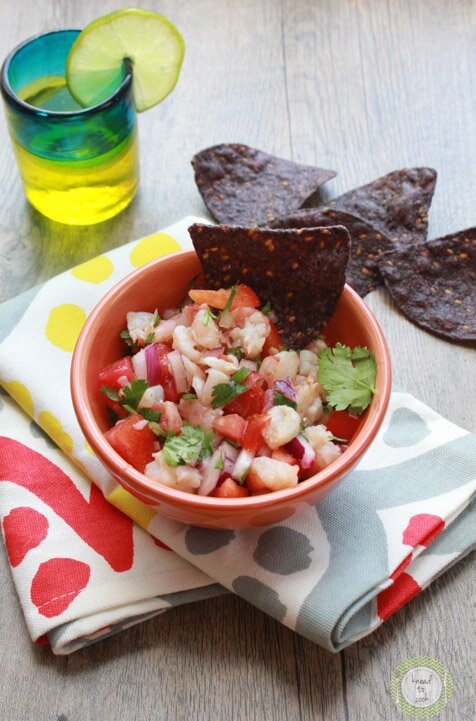 — Knead to Cook