Rainbow Chard with Garlic Scapes.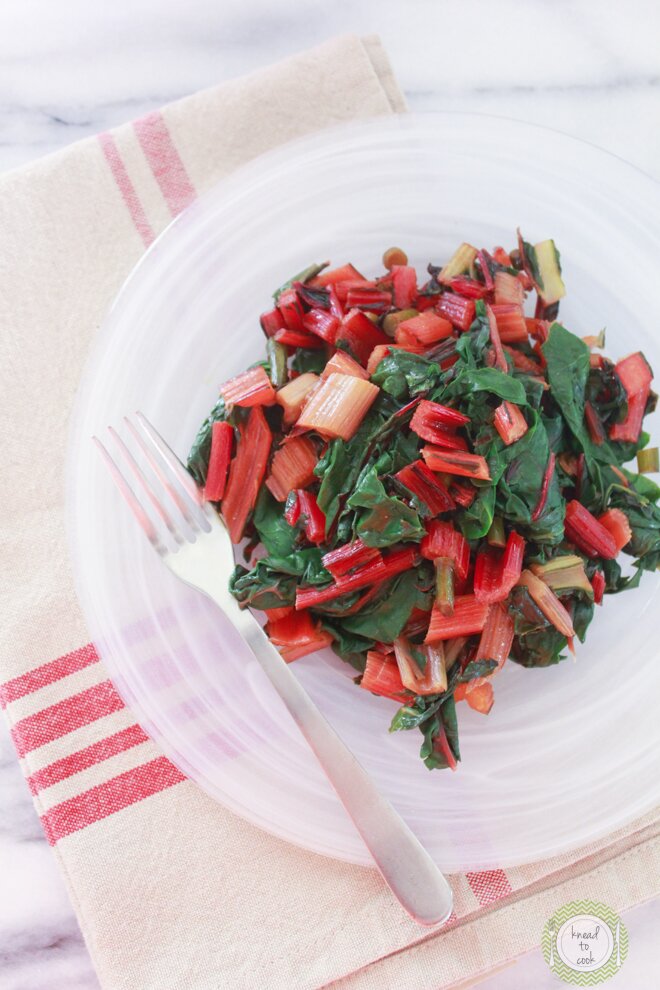 What a whirlwind weekend.  Last week my brand new 2015 Mazda CX5 transmission stopped working on a major road during rush hour traffic as I was driving my daughter to a friend's house.  I was lucky enough to spot a turn-off and coast down the hill to safety.  After a week at the dealer's repair shop, and still not knowing what the exact problem was – we opted to buy another vehicle.  This Mazda, with 4k miles, was going to go to our daughter next year when she started driving.  So much for THAT logic. After losing faith in Mazda's product, we quickly lost faith in Lancaster Mazda Toyota – the car dealer.  Our plan was to purchase a Toyota and keep the purchase under one company and making it financially easier to work.  The company was deplorable to deal with.  Completely dollar focused.  NO customer service.  We were done on so many levels.  We got my little death trap back on Saturday and quickly found a wonderful Toyota dealer (Toyota of York).  If you're in PA – seriously check them out!  This is my experience and NOT a paid ad.
The customer service by our salesman Ian was so fantastic that we ended up buying another car today for my father!  Customer service pays!  Ignorance and rudeness… yeah, not so much!
Okay here are some pics from the weekend (then I'll get to the recipe)…
Started out going for an early breakfast at a favorite local hot spot- Commonwealth On Queen for a vegan breakfast date with this cutie sporting his U of A shirt that I got him for father's day (he's an alum).
Saturday afternoon we bought this… Toyota Highlander Limited Platinum.  Love it!  I'm a black car color kinda girl but I went with the Blizzard White.  Trying to get used to a big truck again after driving a smaller crossover.  It has every bell and whistle possible and is so much fun to drive.  Happy this ordeal is finally over.
My SUV and its green balloon.
My signature magnets that always are on my car.  The Black Dog from Martha's Vineyard because I have a black lab and my marathon magnet.  No balloon.  All mine.  Finally done.
Not only did I buy one, but so did he (my father).  He got a new RAV4 loaded and he totally deserves it!  Lots of learning to do on this new whip.  After 60 years of using a key, push button start is a whole new world.  Not bad for a 76 year old!
Sunday this happened!  20 mile ride.  We found this trail and I really wanted to ride on it, even just for a while.  NO cars to worry about.  I'll admit the ride was lovely but quite sore.  Next week I have my "fitting".  This was my 4th ride.  I'm getting better and the screaming voice in my head is quieting down.  Jumping out of my comfort zone to enjoy some time with my husband.  I'm embracing my newest fear.
And my final total running miles for the month of June…. yay!  Beat my 100 mile goal.  I don't know how I did it with swim meets, meetings and general life craziness but I did.  Have faith and trust in God to give you strength and power when you have no faith in yourself.
Okay so for the recipe… sorry for the delay but it's been a busy week.
Ingredients:
1 bunch of rainbow chard, washed
Olive oil
Salt
2 garlic scapes, washed and finely minced
Directions:
Wash your chard really well and trim the bottoms.  Remove the hard stem (much like celery) from the leaves and bottom.  Keep that separate.  

Then over medium heat, place some olive oil into your saucepan and once hot, add the thick stalks and scapes to your pan.  Cook down for about 4 minutes.  Then add your greens and cover.  They will wilt down just like spinach.  Cook for another 1-2 minutes.  Add salt and/or pepper as necessary.  Serve immediately or cover in a tupperware container and refrigerate.

Then it wilts down…
Thanks for letting me share!
~oxo
— Knead to Cook