Peppermint Cacao Energy Bites. Vegan. GF.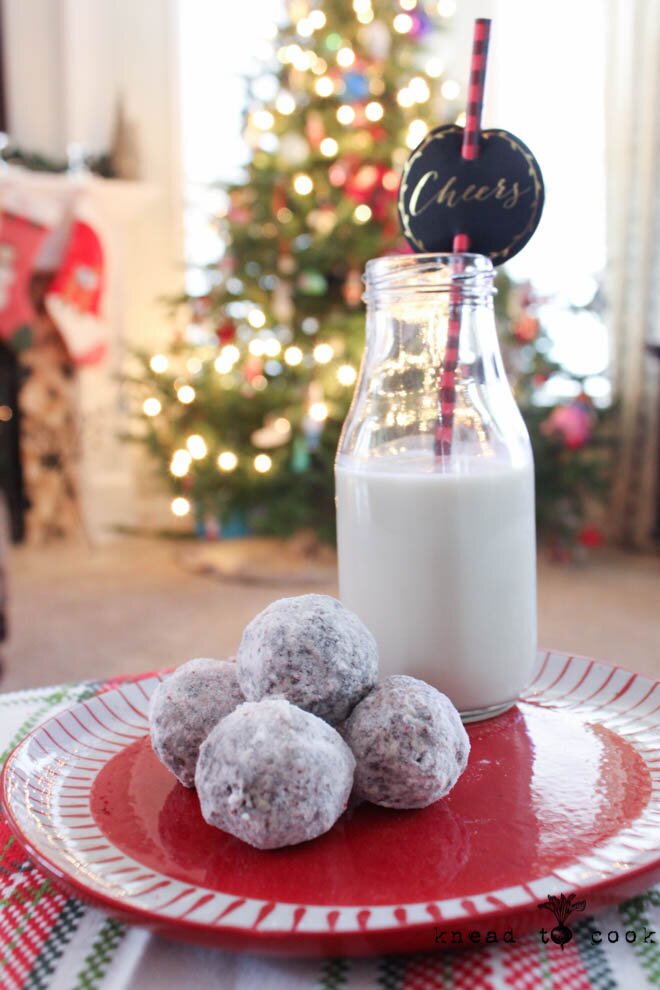 Despite having a huge tree in my living room, I'm still not believing that December is upon us.  I've been doing some Christmas shopping and I thought I better get a jump on some festive treats to have around the house.  I'm not a big cookie or cake fan but bites… they are so easy and pack a nutritional punch on-the-go plus great for my girls before or after practice or after school.  I just love these and they come together in no time.
These are great frozen – enhancing that pepperminty flavor.  These also make a great holiday treat to make for friends or co-workers.

Ingredients:
1.25 cups of raw almonds
10 pitted, very fresh and soft Medjool dates
2 tablespoons of raw cacao powder
1 teaspoon vanilla extract
1/4 teaspoon of peppermint extract
2 tablespoons of vegan mini chocolate chips or chopped chocolate
Pinch of salt
4-6 candy canes or 1/2 cup of peppermint sticks
Directions:
Place your almonds into your food processor and break down the nuts into a chunkier flour texture – avoid over-processing to a flour.  Some larger pieces add texture.  Then add the dates, cacao, extracts and blend.  Then add chocolate chips and salt.  Blend together.  To test if the mixture is soft enough – pinch between two fingers.  If it sticks, you're ready.  If not, add an additional date or two if necessary.
Next, remove your mixture and add it to a bowl from your processor.  Wash out the food processor bowl and dry well.  Add about 1/2 of a cup of pepper sticks or candy canes and blend until broken down.  Place that on a plate or a bowl for rolling.


Using a small scoop, scoop the mixture and roll it into a ball and place it on a platter.  Repeat until all of the mixture is used.  Then roll into the peppermint mixture.  Store in an airtight container in the freezer or refrigerator.  Recipe  yield about 12-14 bites.


Another option is to roll into raw cacao powder as well.



Sunday: 12 outdoor miles
Monday: 10 treadmill miles/strength/core
Tuesday: 12 outdoor miles
Wednesday: Rest day.
Thursday: 16 miles
Friday: Travel day.
I apologize for being MIA as of late.  We have sadly experienced two deaths in our family in one week.

— Knead to Cook