Easy Protein Overnight Oats. Vegan. Gluten Free.
Well hello there friends & happy almost 4th of July!  I hope you have tons of fun plans of being outside at the beach, lake or pool surrounded by your favorite people & of course, awesome food!  We have some super fun plans so make sure you follow me on Instagram and my stories.
About two weeks ago my good friend (who lives across the country from me) called and wanted to mix up my diet again. She's a trainer/registered dietitian & does this sporadically.  She kept me super lean post surgery last year so count me in!  Oats.  I needed to add them back to my breakfast (I intermittent fast so this is normally around 1030 or 11 am) and I have to admit — I've missed oats.  I always gravitated towards them in the sweltering summer months in prior years & I'm happy again to have these.
Different additions/subtractions but I'll share my add-ins and you go from there!  Seasonal fruit and your favorite nuts make this little Ball jar full-of-goodness perfection.  Fail safe recipe.
 I add all of my ingredients into a Ball jar with a lid.  I prepare, store, transport and consume right from the jar.
Ingredients:
1/2 cup of rolled oats (gluten free)
1 cup of unsweetened cashew or almond milk (or whatever non-dairy milk you prefer)
2 tbl of chia seeds
1 tbl of raw cacao powder (powdered pb also works as well)
1/2 tsp of ground cinnamon
Method:
Add all of your ingredients into your jar or container with a secure lid.  Shake vigorously to evenly distribute the chia seeds.  Store in the fridge.  You can easily prep these jars several days in advance and leave in the fridge to grab and go.  I typically make right after I eat my oats (rinsing out the jar and adding my ingredients).  I shake every time I go into my fridge for the first few hours (or when I remember) and before the chia congeals.
When you're ready to eat,  remove the lid.  This is what the mixture looks like.

Topping ideas:
Ground flax/chia seed blend
Nut butter
Frozen berries
Fresh fruit
Nuts
Seeds
Hemp hearts
Cacao nibs
1 tbl protein powder

Enjoy & repeat tomorrow.


If you follow me consistently, you knew in June I took a bit of respite from running to help heal my knee.  I went to a pain management orthopedist and he relieved many of my issues by draining it and injecting a steroid to help aid in healing.  But throughout the month, I fully dedicated myself to lifting/training hard at least 5 days a week with one day of cycling trails on the weekend.  I also always take a minimum of 1 day of rest per week.
I snapped a pic June 2nd to document any progress I would see (mainly for my reference) but did end up sharing last week on Instagram.  I was shocked at my progress.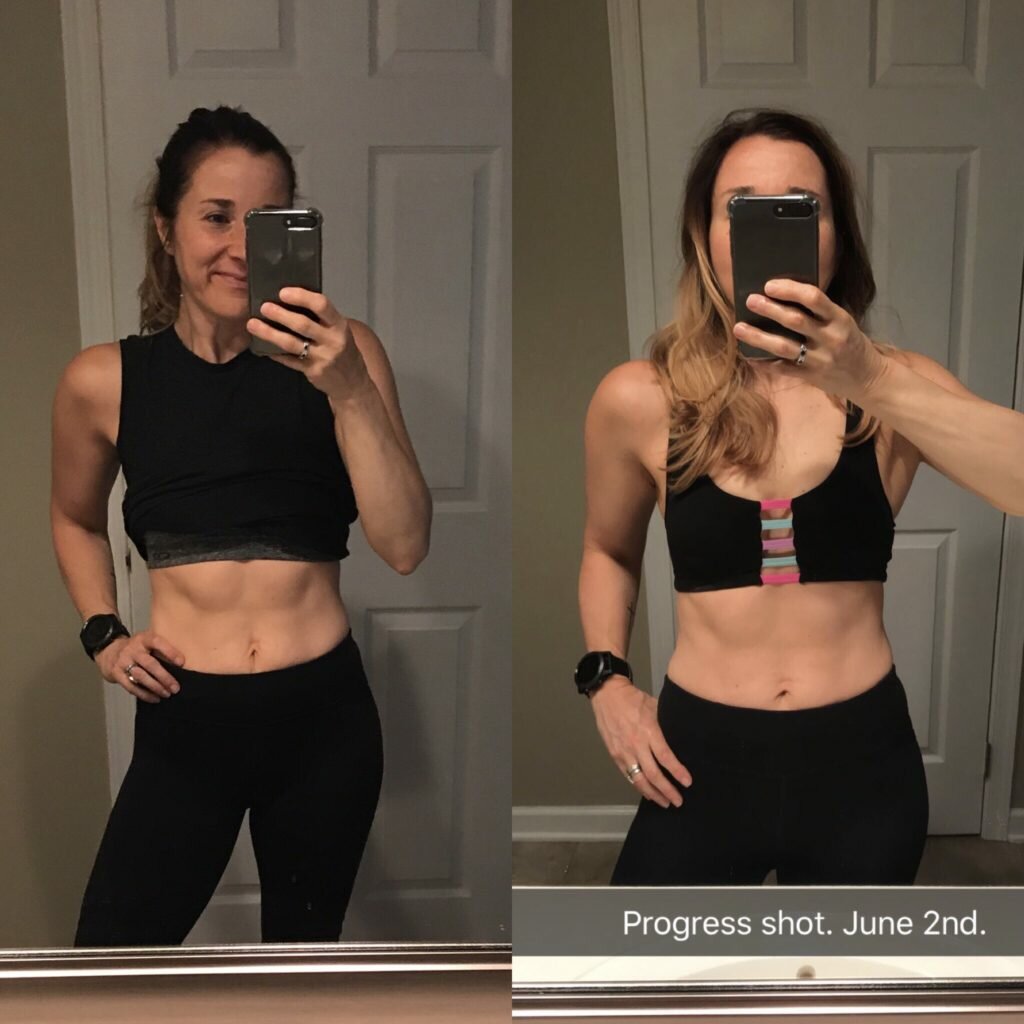 For many years, admittedly, I've been a cardio bunny.  Cardio with very limited weight training was my life.  Forced to re-evaluate, I've fallen head over heels in love with lifting heavy things.  It has been crazy to balance out more weights with limited (30-40 mins a day) of cardio.  Although I feel like I have a bit further to go in my firming up journey, June was successful for sure.
So with my running clearance on Friday – I'm creating a new balance for me.  I will not focus on copious miles like I did before.  I'm planning on 2 or 3 days a week of running with 3-4 days of lifting.  I will tweak as I need to.
Sunday:  4 outdoor miles running (no braces anymore per doc's orders)
Monday: 51 minutes of weightlifting/core and 30 minutes on the elliptical
Be safe friends.  Sending you tons of love 🙂

— Knead to Cook