Cranberry Orange Relish. Vegan.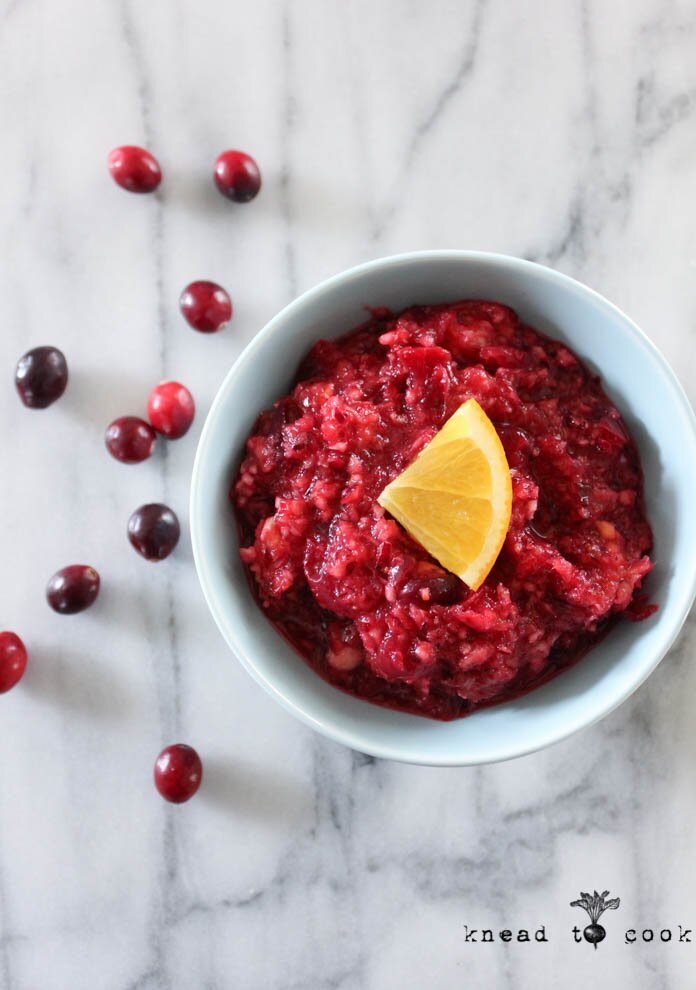 Thanksgiving is this week!  I still can't believe it.  The east coast had record heat yesterday – we were in NYC for the day for some meetings and some meet-ups with good friends.  And tomorrow we are expecting 5-8 inches of snow.  Ha!  Then back up to the 60's – talk about crazy weather.  But snow the day before Thanksgiving means that my company arrives tonight instead of tomorrow and we rush like crazy people to clean up the house, prep food, grocery shop etc. etc. etc.  I'm so excited to see everyone and hang out and just relax, laugh and eat!
I made my traditional cranberry orange relish today but made it a bit healthier without refined sugar.  It's cooling now but I already snuck a taste and it's so good.  In the oven I'm roasting brussels sprouts.  I also made a cranberry jalapeño salsa to snack on plus got the kitchen cleaned.  Doing well or at least I keep telling myself that.

Ingredients:
8 cups of fresh cranberries
2 oranges
1/2 cup orange juice
1/4 cup of maple syrup
Directions:
Wash the cranberries and let dry.  Place 4 cups of cranberries into a saucepan with the oj and maple syrup.  Cover and turn up the heat to high.  Cook for 5 minutes.  Then uncover and let cool.
In the meantime, take the remaining 4 cups of cranberries and place in the food processor along with two peeled oranges and the zest (from both oranges).  Pulse until chopped nicely.
Once the hot mixture is cooled, blend with the cool mixture and serve or refrigerate.  Serve chilled or at room temperature.
On the fitness front:
Well let's see, Sunday I ran 9 miles.  Monday I took off to head to NYC.
I was blessed to finally break well – not bread but tempeh with Lottie from Running On Veggies.  We had so much fun!  I also got a chance to meet up with a very dear friend that I've known for about 35 years!  Although quick, I cherished every second.
My friend Maria told us to pop by Gansevoort's new market.  We had lunch at Chelsea Market but headed over to this new cute market.  Bill and Syd "shared" some guac and chips.  It was a lovely day.
I love the Chelsea area.
We brought back some cookies from Eleni's for our youngest that missed the trip.   Gobble.  Gobble.  Happy Thanksgiving!
Then today woke up bright and early, child 2 still has school, got her breakfast ready, fed/took care of the dogs and headed off to the gym.  Ran just over 5 miles then did weights and core.  I'm just shy of a 100 miles for November but have lots of miles remaining this week.
That's it for now.  Hope you're enjoying your family and friends, good food and lots of laughter.

— Knead to Cook