Cast Iron Skillet Peach and Berry Crumble. Vegan. Gluten Free.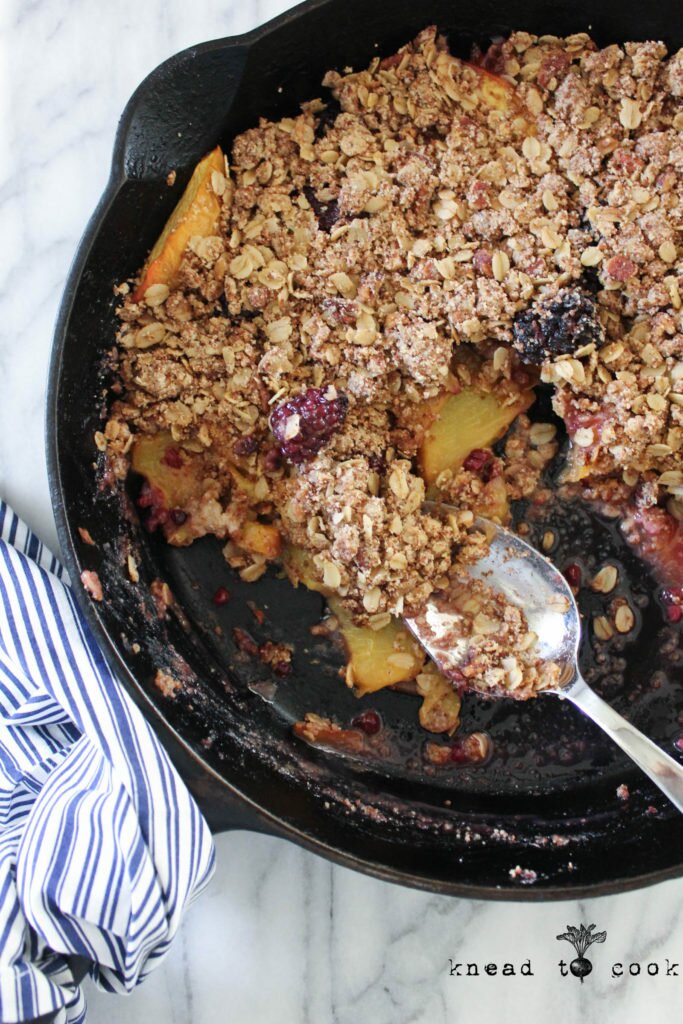 Oh this recipe has been long & coming. I'm sorry for the wait if you follow me on Instagram, mainly my instastories. I shared this 2 weekends ago and then life happened. I'm finally dedicating my afternoon to re-creating it, changes made and photographing it. It is heavenly & I may have eaten this for lunch today (no shame in my game).
Peaches are plentiful and work perfectly in this crumble however you can adapt this recipe to use seasonal fruit that you have on hand. Think apple crumble next month through the fall. I'm still secretly hoping I can get cherries at a good price tomorrow at my farmer's market to make a cherry version. Whatever you have… it will work!
This dish is perfect right from the oven and topped with either vegan ice cream or as we did, So Delicious coconut whip. Warm and absolutely bursting with flavor. I also love using super ripe fruit so you don't have to use a lot of extra sugar. Who's with me?
I'm still surprised that we are in the last few days of August. School has started for both of my girls and life is settling in. I really do love fall & look forward to cooler temps, cozy sweaters and big mugs of tea around the fire.
Ingredients:
3 or 4 large peaches, washed and sliced with the stone removed
1 pint of blackberries, washed — blueberries or cherries would also be great
2 tbl of coconut oil, melted
1 cup of gluten free rolled oats
1/3 cup of almond meal
1/4 cup of gluten free flour or oat flour
1 tbl flax meal
3-4 tablespoons of oil, I used walnut oil for a really nice nutty flavor or you can use olive
1/2 cup of chopped pecans, walnuts or almonds
1/4 tsp salt (I used pink Himalayan)
2 tbl maple syrup or coconut sugar
Method:
Preheat your oven to 350 degrees. I warm my cast iron pan in the oven while it preheats. Remove with a mitt and add your coconut oil to melt. Place all of your fruit into the cast iron pan. In a separate bowl add your dry ingredients and whisk. Once blended, drizzle in your oil. Add more if necessary. Mix and blend until incorporated and chunky. Pour the oat crust over the top of your fruit and spread into an even layer.

Add your topping:


And spread.


And bake for 50-55 minutes or until the crumble is browned and the fruit is bubbling. You can easily bake this on the grill outside (indirect heat) if you wish as well. Remove from the oven carefully and spoon into bowl. Top with either coconut whip or your favorite vegan ice cream. Enjoy! You can store leftovers, if any, in an airtight container for 3 days.

And with that… I devoured & enjoyed thoroughly. Happy Monday!



Okay let's do a roundup here. Today I got my 2nd gel injection in my knee. It hurts like a bleeping MOTHER! So there. I also got to meet with a naturopath last week about my autoimmune disease I was diagnosed with in June. More on this to come. I've been making a lot of changes and had my first acupuncture. Dear God please stop with the needles in my body!
So I continue to train and train hard.
Sunday: 2 hours of cardio
Monday: 1h 5m weightlifting and 45 m cardio
That's a wrap! I'm traveling all week this week so I'll be active on social media but may not have a chance to post again this week but I'm trying!

— Knead to Cook