The best tips for going and living vegan.
It's the one question I get the most.  Can I share tips on how to go vegan? Then followed by favorite products and foods I love.
While I'm recuperating from knee surgery, I thought this would be the perfect time to tackle a post that will cover transitioning your diet over, favorite foods that I've discovered over my journey and brands for beauty, the home and life that are both vegan and don't test on animals.  Along with fashion, shoes, eating out with friends… all of the goodness.
I posed the question on my Instagram story – What questions do you have about veganism?  I quickly was inundated with so many great questions. So let's jump in!
First things first… vegan does not equal perfect.  We are learning each day.  Mistakes, stumbles, hidden ingredients will often make the journey have a circuitous route.  Gelatin in a pill that you have to take or a weird chemical name on an ingredient list for bread that you didn't realize is derived from wool.  You see my point.
How do I migrate into a plant-based diet?
When embarking on a journey, like a marathon, you need to take steps daily to get you to your goal.  You don't just jump in and run 26.2 miles in a day.  My best suggestion is to replace one meal a day with a veggie/grain/nut filled option instead.  Do this for one week.  That's 7 meals!  Maybe you tackle lunch each day or breakfast.  Those seem a bit easier to integrate.  Breakfast is really easy.  Overnight oats like this or this .  Pancakes like this.  Or the easiest of all and great post gym breakfast, a protein packed smoothie like this, this or this.
From there increase meals, maybe one or two meals a week.  For the greatest success, it needs to be mindful and a learning progression.  Its been my experience with people that when they jump head first, they become quickly overwhelmed and give up.
Can you share some of your favorite vegan "meat" substitutes?  Thankfully in today's market, there are so many vegan-based products to substitute meat and cheese dishes that you will be hard pressed not to find favorites to easily transition.  Here are a few favorites:
I shared these with you all back in March.  The Beyond Meat burgers in the center are by far the most incredible burgers out there!  My family loves Gardein meatballs, sadly not GF for me.  Their beefless crumbles, however, are my favorite.  Trader Joe's also makes a great meatless crumble.  You can substitute the crumbles in chili, on your taco bar, in salads… the options are endless.  The Jackfruit is a wonderful substitute for pulled pork.  Great on rolls or again, in tacos or wraps.
What vegan options do you share during holiday get-togethers?
Check out the Herbivorous Butchers in Minneapolis.  Hell to the YES with artisan created, small batch, vegan meats and cheeses.  Seriously they are no joke.  Check out their Thanksgiving feast (and yes I already ordered):  click here.  This will sell out soon. And no this isn't sponsored.  They also offer cheeses, side dishes… lunch meats. Everything you though you would miss about going vegan… you don't.  Their products are so incredibly good that they were featured in Diner's, Drive In's and Dives.
They have a ton of options including gluten free.
So once you start migrating meals away from animal-based.  Incorporating beans, nuts and seeds are also wonderful protein dense options.  The simplest of meals can be put together in mere minutes if you plan ahead.  I love to prep my grains on the weekend and have them stored in fridge for quick option.  Quinoa is my favorite.  It's versatile and easy.  You can eat quinoa for breakfast topped with nut butter, some nut milk, fresh fruit and seeds.  Quinoa makes a great addition to any salad bowl or for dinner as a base layer to your roasted vegetables.   One of my favorite bowls is so incredibly simple.  Base layer of quinoa, topped with sautéed vegetables (whatever you have on hand), a side of hummus topped with walnut pieces, pumpkin seeds and hemp hearts.  The dish meets all of your nutrient needs and will leave you satiated for hours.  They key to hitting all of your nutrients is mixing up your fruits, veggies, nuts, seeds and grains daily.  I'm also a big believer in taking daily vitamins as well.
I could easily give up meat but not the cheese.  Any guidance?
This seems to be one of the largest stumbling blocks for people going vegan.  I get it.  I love cheese too and thankfully there are some awesome companies out there making some crazy good vegan cheeses.
One of my top go-to's for pizza (smoked mozz or regular mozz) or for cheese platters is:


Miyoko's Kitchen has a wide variety of spreadable, snacking or cooking cheeses.  My absolute favorites are below:
Here mozz cheeses are heavenly on pizza.  My tip is to let them come to room temp before baking.  They melt perfectly.

The smoked mozz you can eat alone it's that good!  And I have.  Ha.

We also love the classic for pizza.  Slices perfectly.

This cheese is a staple on our cheese boards when we have company.  It's so good!
And finally, her butter is wonderful for cooking, sautéing and baking.

Other cheese products we love: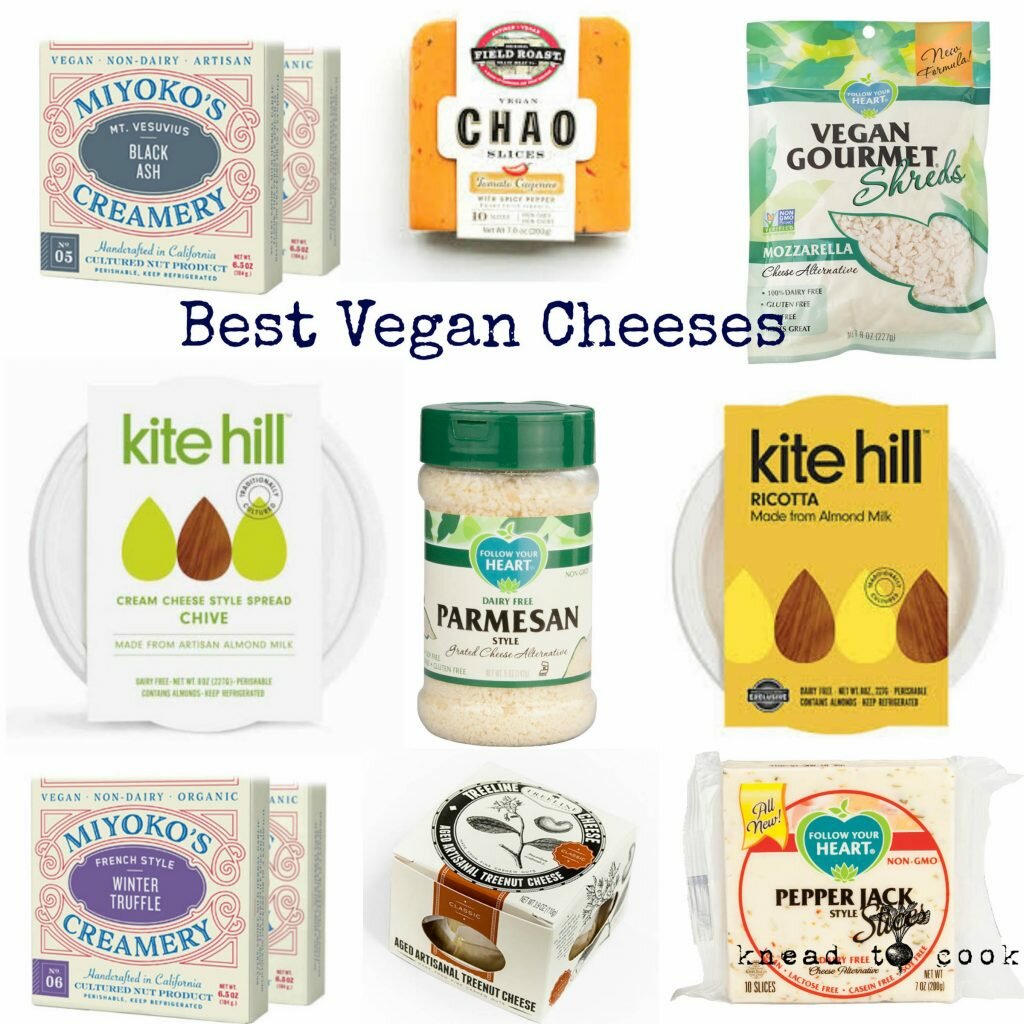 I shared these back in February and they remain some of my go-to favorites.
There are so many vegan treats out there but I don't know where to start.  Help! 
So let's turn our attention to some vegan decadence!  If you live in PA one of the best vegan bakeries on the planet is in Bethlehem.  Run to Vegan Treats.  Seriously from their ice cream to donuts, to cakes to cookies.  You cannot go wrong.  They even do the most incredible vegan wedding and custom cakes.  Aside from that… non dairy ice creams are popping up like wild fire at your local markets, grocery stores and even Target.  My favorites:
Nadamoo is one of the very first artisanal vegan ice creams. The flavor options are to die for.  This is our favorite hands down.
The best, creamy – just like your favorite dairy ice cream substation is this!  So Delicious cashew milk ice creams are one of the best I've eaten yet.  Available at most grocery stores.  So damn good!


Their coco whip is also a must have to keep in your freezer for topping hot cacao, ice cream or your favorite dessert.
So Delicious has a wide selection of cashew, soy and coconut based frozen goodies.
I wanted to share some other snacks with you all.

These are just a sampling of the awesome vegan products out there! Most of these can be found at your local health food markets, Home Goods, TJ Max, Marshall's or on Amazon.  Grocery stores also have them in their "health food" sections as well.
Here are links for each company noted above:
Live Love Pop has some of the best popcorn around! I often find at Marshall's/Home Goods and TJ Max.
Siete has the best tortillas and chips around!  You need to find these.  Taco Tuesday will never be the same.
Justins can be found at your local grocery store, drug store or wherever sells candy.  Seriously the best chocolate peanut butter cups around!  Target has them too!
NadaMoo can be purchased at Whole Foods or now through their website.  We also have local markets that sell it.  So damn good!  All the flavors are spot on.  No scary ingredients.  Top notch.
C20 coconut chips these come in sweet or savory flavors.  I will warn you that you can easily devour a bag in a hot second.  Great for topping salads, ice cream, granola or whatever.  These can be found at grocery stores, Target, Walmart and on line.
Hippeas  oh these chickpea based treats can be found anywhere from Starbucks to health food stores.  These are the salty treat you crave without any of the guilt like potato chips or other fried snack foods.  Protein.  Flavor.  These are so good and I can't not eat the entire bag.  Be warned.
Cocomels if you love caramel… welcome to the best vegan option out there!  No lie.  these are so good.  I always find these at Marshall's, TJ Max or at my grocery store. Thankfully they don't come in huge bags or I would be in trouble.  So good! I linked these to Amazon for purchase.
Eat Pastry.  There aren't enough words for how incredible this cookie dough is.  I buy it through Amazon Fresh.  They have a variety of flavors and yes some gluten free options.  Can be eaten raw or baked.  Mixed into your favorite ice cream.  Roll into balls and freeze for edible cookie bites.  I make these a lot for Sydney and ship to her at college.  LOVE.  Whole Foods always has it in stock.  Always freezes perfectly!
How do you eat out in social situations when the restaurant isn't vegan?
This is a wonderful question.  I always call ahead and let them know our dietary needs.  Most chefs are quite happy to prepare special dishes to accommodate.  If you don't have the opportunity to call ahead, always check out the menu beforehand.  Most side dish menus will allow you to build a dinner of veggies and a starch quite easily.  I always note no butter in preparation.  I have though, in some situations, not been able to eat and for that reason, I always carry a protein bar with me so I have something to hold me over.  I never make it a big deal and play it down as much as possible.  Thankfully that's rare and most places have garden salads you can add to.  My best tip is to patronize ethnic restaurants as they all have vegan options.  Asian, Ethiopian, Italian, Indian, Mexican…  you name it, they all have some wonderful dishes to try.
Secret ingredients that aren't vegan you need to watch out for…
Beeswax
Casein – found in sheep or cow's milk typically used in cheese making.
Gelatin – made from cow's bones.  Typically in marshmallows, gummy candies etc.
L. Cysteine – made from animal hair and is a dough conditioner used in baked goods.
Isinglass – used in alcohol makings (beer and wine).  Derived from fish bladders.
Whey – liquid aftermath after making cheese.  Typically in protein powders, supplements etc.
Albumen – typically seen in cosmetics and derived from eggs.
Allantoin, Alcloxa, Aldioxa, Aliphatic Alcohol.  Will be found in lotions and cosmetics.
Amino Acids – used in cosmetics
Biotin – used in cosmetics
Bone char – used to make sugar white.
Down – used in comforters, pillows etc.
For a complete list, please refer to Peta's reference list which can be found here.
For easy reference, the app Cruetly Cutter app easily identifies products for you with a quick bar scan.  And you can also look for any of these images on your products:
What about skincare? 
Skincare has several incredible options for vegans.  I'll share some at a variety of price points that you can reference.
Osea is one of the best I've tried. They only use vegan and earth conscious ingredients.  Their packaging is recycled glass and they don't use plastics eradicating the fear of plastic chemicals leaching into the products. They have an incredible selection of products from skin care, anti-agings, blemish control, body care etc.

I've had the pleasure to try many of Herbivore's products and each one has been incredible.  They have a really extensive line including oils, skin care, hair care, body, lip care and men's products.  Can be found at Sephora, Nordstrom and online.
I first tried Gwynth Paltrow's line last Christmas.  They have wonderful make-up!  Their products include skin care, make up brushes etc.  Juice Beauty  can be found at Anthropologie and on their website.  All organic and vegan.
Pacifica is one of my all time go-to favorites you can pick up at Target or Marshall's, TJ Max or Home Goods.  My girls and I love their kale face wash.  They have incredible make-up, deodorant wipes, masks, scents, nail polishes… so many products!  Their prices are reasonable.  I'm a big fan!
YES to products are all over the place!  We love their face washes, masks and lotions!  My girls love their paper masks.  Charcoal cleansers.  All so reasonably priced.  I always find them at Target.  I see they now have men's shaving cream now as well.  All different veggies/scents to chose from each with a different purpose.  All are so good!
Can you share some make-up brands you love?
Some brands are listed above for reference int he skincare section.  Here are some other awesome brands I shared in the past.  I love each of these!
And my latest fave…
This make-up is EVERYTHING!  I swear.  Vegan.  Cruelty free.  Available here or at Sephora.
I've found this link with a huge cosmetic directory at all different price point.
Where can I find vegan fashion & shoes?
Vegan options can be found at all different price ranges.  Stella McCartney is a famous designer who offers vegan shoes, bags, clothing can be found here and here.  Here items are high-end and stunning.
Now as I mentioned earlier, being vegan isn't being perfect.  With that, I buy non-leather shoes but I cannot be 100% positive that the glues etc. used are vegan.  Do the best with what you can.
Other brands that are vegan:
Matt & Nat create the most stunning bags/purses and accessories.  Available at Nordstrom and their brand website.
Toms has many vegan shoes and sneakers.  All noted on their website.
Saucony has great vegan sneakers clearly labeled on their site.
My other favorite stores that have synthetic, non leather shoes and accessories:
Target
Sole Society
Nordstrom
Vici
Free People
Doing a Google search for vegan shoes, clothing etc. whatever you are looking for. Many retailers have options and it's getting better.
My tips…
When shopping for sweaters always check the tag.  I don't buy anything with wool, Alpaca, etc.  Avoid any down filled items.
The best winter coat options I found:

These coats are the warmest!  Completely vegan!  I've also found them half price at Nordstrom Rack clearance.
Wully has some awesome vegan winter coats that are stunning yet investment pieces.
Barbour has some great fall jackets that are waxed cotton exterior with cotton lining.  Be sure to verify labels to ensure no leather has been used on the garment.
Again, you can find vegan products anywhere and most aren't labeled that way. Check labels to ensure fabric content.  Also, many big named coat companies are now offering non-down options.  Marmot, North Face, Columbia etc. all have product offerings but may only be available online.
Phew!  This post is clearly the largest I've ever written yet one of the most important.  I hope if you submitted a question, I've answered it here.  If not, please reach out to me again.  This lifestyle isn't a fad or a diet.  It's a way of life and a belief that you can make the world a better place for it.  Breathe and take each moment to make a significant impact.  Each dollar you spend is a vote for the products you want companies to produce.  Choose wisely.

SaveSave
SaveSave
SaveSaveSaveSave
SaveSave
SaveSaveSaveSaveSaveSave
SaveSave
SaveSave
SaveSave
SaveSave
SaveSave
SaveSaveSaveSaveSaveSaveSaveSaveSaveSaveSaveSaveSaveSave
SaveSave
SaveSave
SaveSave
SaveSave
SaveSave
SaveSave
SaveSave
SaveSave
SaveSave
SaveSave
— Knead to Cook