Beefless Vegetable Soup. Vegan.

Happy November! It's crazy that we're kicking off the holiday season already. Emails are starting with holiday gift guides and Thanksgiving menus are floating through my head. Not to mention, we have 2 months left in 2017! Wow. It's been quite a ride this year to say the least.
I love the cooler temperatures of fall, as long as winter holds off. With the nip in the air, I'm all about warm, comforting foods. This is one of our favorites. A spin on the classic beef and vegetable, this is made with a vegan beefless crumble and fooled my hardcore, non vegan father. He even remarked how good it was… so good.
It's protein packed and is the perfect way to clean out your veggie bin. This recipe is super flexible so go with the flow. Taste and adjust the seasoning and enjoy. This soup also freezes beautifully.

Beefless Vegetable Soup. Vegan.
Prep time:
Cook time:
Total time:
Ingredients
1 tbl of olive oil
1 bag of Gardein beefless crumbles (or whatever beefless crumbles you prefer)
1 yellow onion, diced
3-4 cloves of garlic, minced
1 bell pepper, core removed and chopped
3 medium size carrots, thinly sliced (2 cups)
2 containers of vegetable broth (low sodium)
1 28 oz. can diced tomatoes with juices
1 15.5 oz. can of cannelloni beans, drained and rinsed (any hearty bean would work)
1 tbl of Italian seasoning
1 tsp of smoked paprika
1 tsp parsley flakes
1 teaspoon salt
1/2 tsp onion powder
1/2 tsp garlic powder
Freshly cracked pepper
Salt to taste (I used black garlic salt but use what you have on hand)
Instructions
Add your olive oil to a large Dutch oven or stock pot.
Over medium heat, once the oil is hot, add your beefless crumbles.
Cook for about 4-6 minutes, stirring often.
Add your onions, garlic, bell peppers and carrots.
Cook until the onions are translucent, 4-6 minutes.
Add your broth, tomatoes and beans.
Then add your seasonings.
Bring to a boil.
Then turn to a low heat, cover and simmer.
After about 30 minutes, taste and adjust the seasonings.
I amp everything up a lot.
I simmer this on low all afternoon.
If you don't have the time, turn off.
Once cooled, store in airtight containers.
I serve with rice or noodles.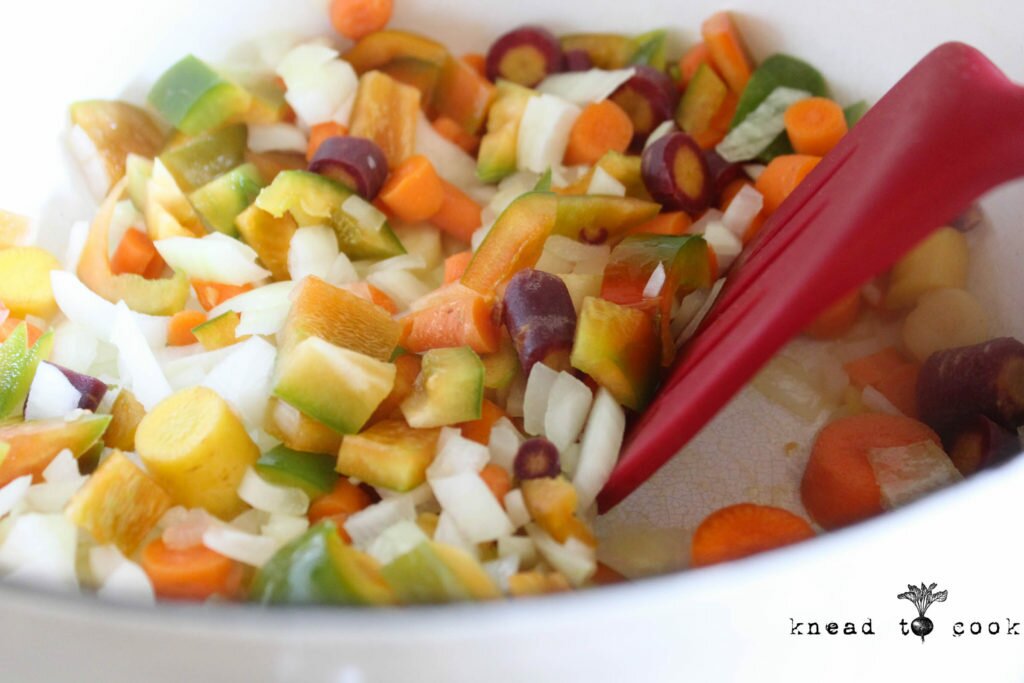 I'm 6 days post op and hobbling around perfectly. I can drive tomorrow and go back to the gym to lift upper body. I've been lifting this week at home as much as I can. My post op appt is Monday and I'll be honest… I can't wait. I can't shower till I see him… splash zone around my tub is super fun every night… not!
Hope you all have a lovely Halloween!

SaveSave
SaveSave
— Knead to Cook