Wheat Berry Stuffed Bell Peppers. Vegan. Vegetarian or Meat Lovers.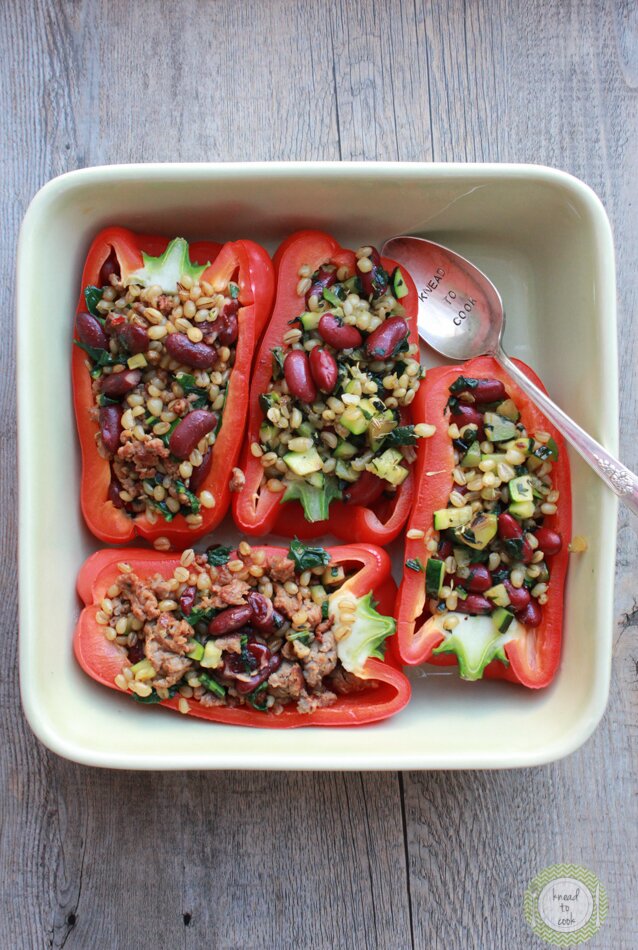 The count in my family is now 2 vegetarians and 3 carnivores. I have to admit, somedays its just hard enough getting one dinner on the table versus two different options to satisfy everyone's needs/wishes. This dish works really well because you can prepare the base and use that for the vegan/vegetarian option and add your protein for the meat lover versions. You can make as many as you need working essentially between the two dishes. This dish can easily be prepared ahead of time as well and then just baked/broiled right before serving dinner. Plus it's packed with protein and vitamins to keep you humming along healthy and happy!

Ingredients:
1/2 cup of wheat berries (cook according to package directions – I used Bob's Red Mill)
Olive oil
2 small or 1 medium zucchini, diced
1 small yellow onion, finely diced
1- 14 oz can of dark red kidney beans, drained and rinsed well
4 large kale leaves, stem removed, washed and chopped
4 large bell peppers, halved lengthwise, seeded and membrane removed
Protein of choice – I used about 1 lb of turkey sausage, casing removed
1 teaspoon of fennel seeds (I like the pairing with the sausage)
Salt and pepper
Directions:
In a large pot of boiling water, add some salt and then the halved peppers. Cover and cook for 4 minutes and then promptly remove and drain. Place the peppers in a large baking dish cut side up so you can stuff easily.
To start working on the stuffing for the peppers. Once your wheat berries are cooked and cooled – add the beans to that and set aside.
You will need to get two sauté pans and place over medium heat with a drizzle of olive oil in each. In one pan you will sauté the kale, onions and zucchini until tender. Keep stirring to avoid burning.
In the other pan you add your protein (if using) and cook that thoroughly breaking up the meat into smaller, bite sized pieces.
Once everything is cooked and ready – take half of the veggie sauté mixture and add it to the protein along with half of the wheat berry/bean mixture. Season to your taste. Heat thoroughly. Then begin stuffing your peppers with the meat mixture. Make as many peppers as you like or need.
In the veggie sauté pan, add the remaining wheat berry/bean mixture and heat that through. Season with salt and pepper. Then start stuffing your peppers.
Optional topping would be shredded cheese (your choice) – my husband used Cabot's aged cheddar in the black wax packaging.
Preheat your oven to 350 degrees. Place in the oven for about 15 minutes and then broil (if using cheese) for an additional 2 minutes or until the cheese gets a nice bubbly crust. Remove and serve.
Vegan: use the wheat berries, kale and beans only.
Vegetarian: use the wheat berries, kale, beans and top with your favorite cheese.
Carnivore: Use all of the ingredients (your choice of ground beef, turkey, chicken or pork etc.) with cheese.
— Knead to Cook