Cinnamon Toast Smoothie. Vegan. Gluten Free.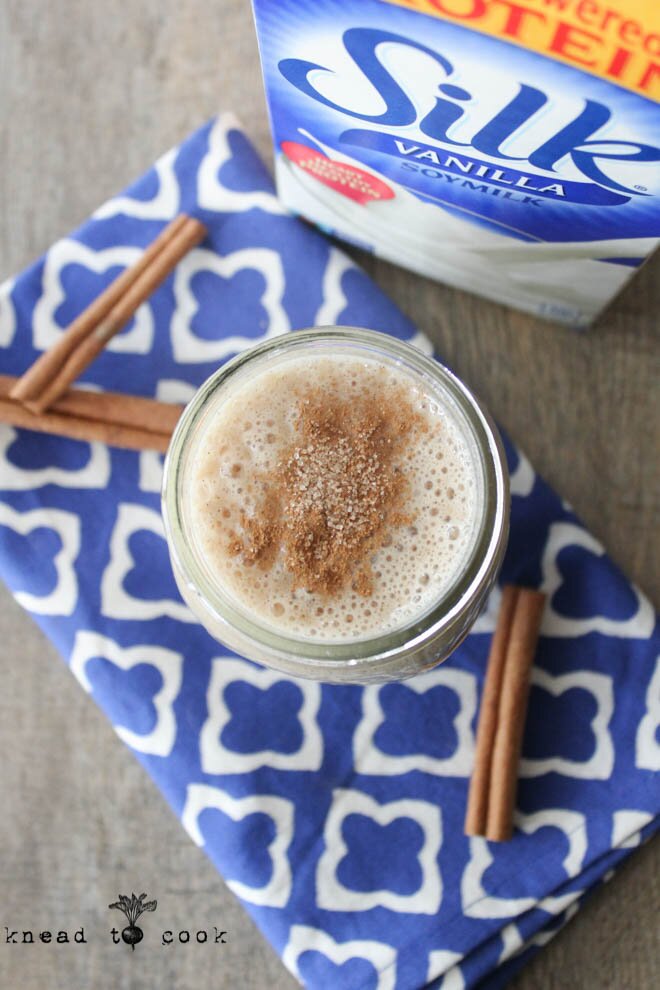 I love smoothies and they are by far my favorite go-to post workout fuel and breakfast. I workout 6 days a week and always look forward to loading up on a protein packed smoothie to help my muscles rebuild and recover from the tearing down that happens during my run/weightlifting/cycling.  Smoothies are easy and so customizable.  I thought it would be fun to do a throwback to a childhood favorite.  This recipe is easy and even your kids will be scrambling for it.  I promise.  This recipe is also perfect during that mid-afternoon slump when you creep into that "hangry" mode hours after lunch but not quite dinnertime yet.  Sound familiar?  This will calm the urges and give you the nutrition you need while staving off the munchies.
I used Silk soy milk in this recipe.  Plant-based. Lactose-free, vegan, cholesterol-free and contains no high-fructose corn syrup. NO artificial colors, flavors or preservatives. Silk Soy Milk is verified by the Non-GMO Project and is free of gluten, casein, peanuts, egg and MSG. 8 grams of plant based protein per serving.  That's more protein than any other dairy-free milk.
This conversation is sponsored by Silk. The opinions and text are all mine.

Ingredients:
1.5 cups of Silk soy milk
1 frozen banana, sliced into 4-5 pieces
1 teaspoon of ground cinnamon
1 teaspoon of vanilla extract
2 dates, pitted
6 ice cubes
Dash of cinnamon/sugar on top for garnish
Directions:
Place all of your ingredients into your Vitamix or high powered blender.  Blend until creamy and smooth.  Pour into your large glass (or split it with a loved one) and enjoy!

Fitness recap:
Sunday: 30 mile cycling
Monday: 6 miles outdoors
Tuesday: 4 miles on the treadmill 4×800's at 7.8-8.0 speed alternating with 7.2 pace.  Weights/abs.

— Knead to Cook