Cashew Cream Chocolate Pots de Creme. Vegan.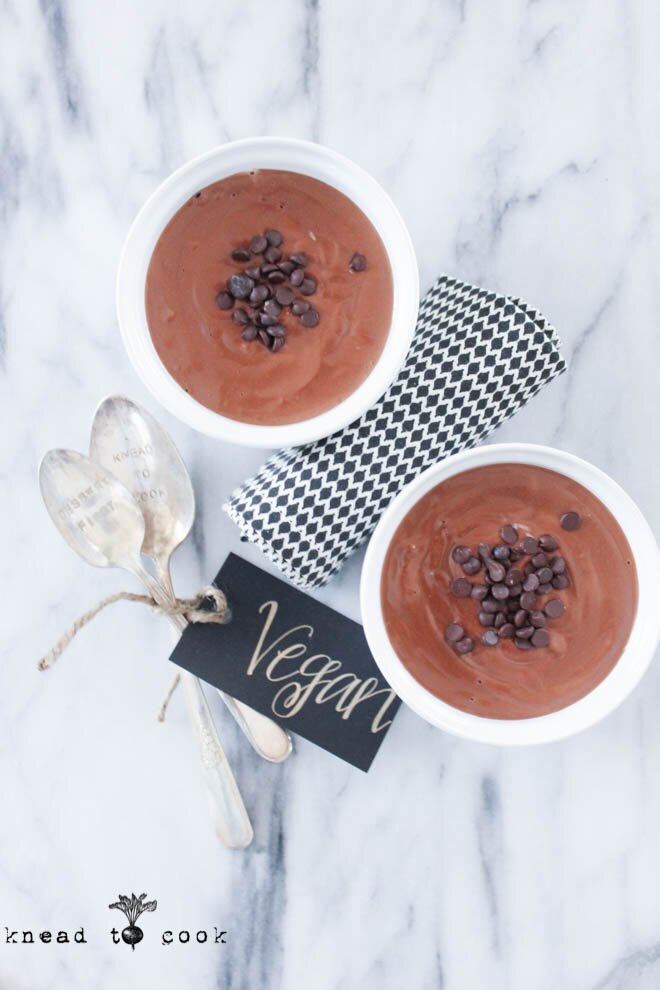 Sitting here without words… well, not really. I'm always soaking cashews – seriously, always. Making cashew cream is super easy. It yields the most versatile product ever. You can go sweet or savory with it. Think of this as a replacement for cream or dairy that you would use in recipes only it's vegan, not artery-clogging and has a nice source of protein from the cashew and makes everything super creamy.
So with all that being said – I wanted to go sweet with this cashew cream. I've been wanting to make pots de creme or a fancy chocolate pudding. This recipe took me minutes to make and it turned out to be just the tastiest thing ever. Hello chocoholics!

Ingredients:
1 cups of cashews (raw are best) soaked for 12-24 hours in filtered water
1/3 cup of water – or more if necessary
1/3 cup of raw cacao powder
1/4 cup of maple syrup or agave
Pinch of salt
Optional: Chocolate shavings or chips (vegan)
Directions:
Into your Vitamix or high powered blender, add your cashews and water. Blend until creamy and smooth. You don't want it watery but you do need it a pudding-like consistency. And it has to be creamy. Once you scrape down the sides, and blend again – you can add your other ingredients through salt. Blend again until everything is incorporated. Taste test it and adjust by adding what you prefer. Spoon into ramekins and top with fresh fruit, chocolate chips or shavings. Refrigerate for at least 25 minutes to chill and set up.
Enjoy!

Okay after much shoveling and snow blowing I got to the gym today! I was happy to run and workout my abs. My schedule is a bit off and after some consulting about my long run Sunday — I was advised to take it super easy tomorrow for a short 5k and then my long run will be Sunday morning. The warm temps are supposed to arrive this weekend. Hoping to get outside and run after about 3 weeks of treadmill long runs. Happy Dance!
Recap:
Sunday: 12 treadmill miles
Monday: rest
Tuesday: 4.44 treadmill miles
Wednesday: 5 treadmill miles
Thursday: Snowmageddon arrived.
Friday: 4 progressive miles on the treadmill
Saturday – planning on a very easy 5k.
Hope spring is arriving wherever you are and that you have a fantastic weekend! Back to cleaning my house before the weekend arrives.

— Knead to Cook