Caramel & Peanut Butter Chocolate Cups.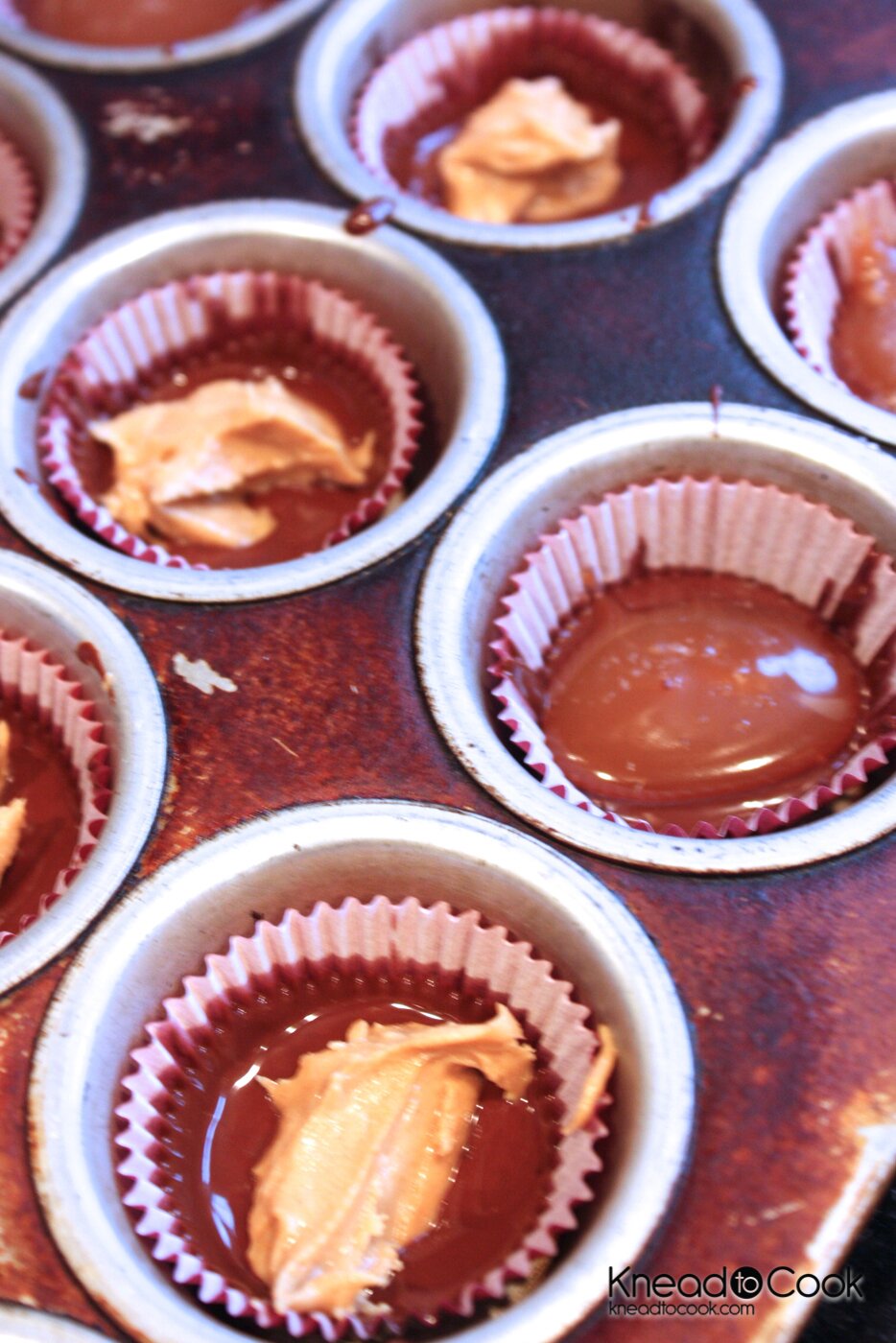 This week I made a fresh batch of caramel to satisfy my youngest daughter's request for caramel apples.  I had some sitting in the fridge and thought it would be fun to do some caramel cups with it and then made some peanut butter cups for good measure.  These are super easy to make and everyone will just light up when they see them!
Ingredients:
1 bag (10 ounces) of Ghirardelli 60% cacao bittersweet chocolate or semi sweet (depending on your preference)
1 teaspoon of canola oil
Mini cupcake papers (for your mini cupcake pan) OR use regular sized cupcake papers/cupcake/muffin pan
1/2 cup of peanut butter
1/4 cup of confectioners sugar
Caramel (fresh or store bought)  Click here for my caramel recipe.
Sea Salt
Directions:
Okay your first step is to place your liners in your muffin tin.  Once all of the liners are in (this makes about 20 mini sized).  Set aside.
Heat your peanut butter in a microwave safe bowl.  Remove and add the powdered sugar.  This will firm up the peanut butter and make it a bit harder (more of a Reese's cup pb texture).  Set this aside.
Melt your chocolate however you prefer.  I place a saucepan about 1/4 way filled with water that you place over a medium flame.  Over top of the saucepan I place a heat-safe bowl creating a double-boiler.  Once the water boils, I reduce the flame to low.  Make sure the water doesn't touch the bowl you are melting the chocolate in.  Place the chocolate in the bowl and stir until melted.  Add the oil.
Spoon about a tablespoon of chocolate into the bottom of each cup.  Then take a spoon and smear the chocolate up the sides (not all the way) all around the paper liner.  This will create a nice side so that you don't see the filling once the cups are done.  Then spoon a tiny amount (1/2 tsp or so)  of your caramel or your peanut butter mixture.  Fill each cup.  Then top each one with additional chocolate.  I topped the caramel cups with a dash of sea salt (optional).   Refrigerate or freeze for about 30 minutes or until firmed up.  Remove the paper liners and enjoy!  Store in a tupperware container.
— Knead to Cook