Buckwheat Groat and Almond Pizza Crust. Vegan. GF.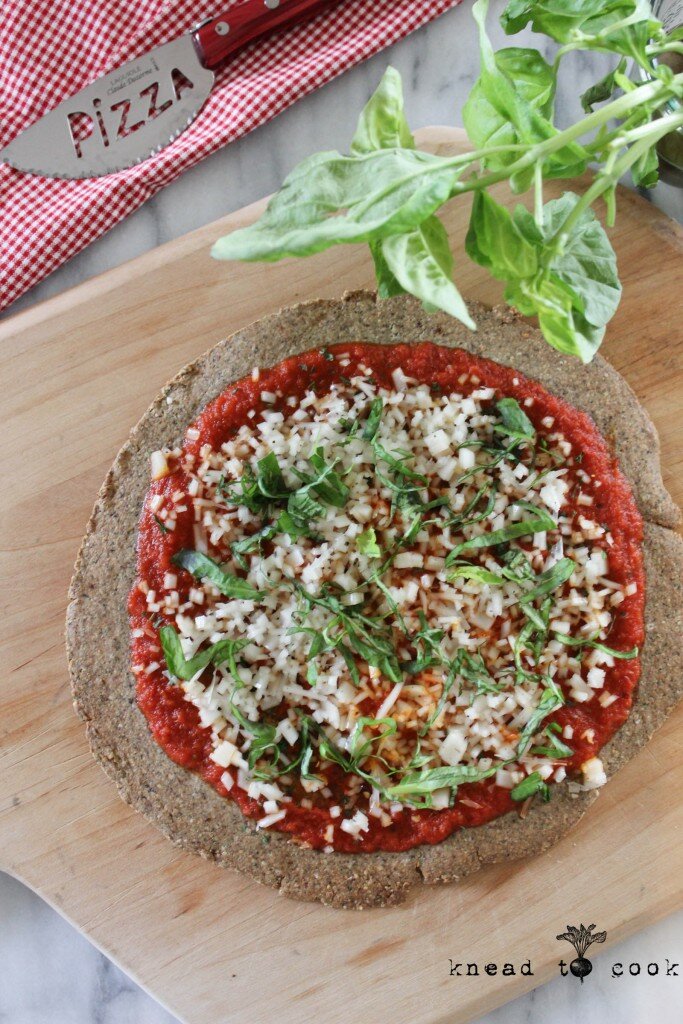 Oh pizza I love you so however gluten free pizza… you leave me quite despondent.  Gluten free items, although better than years ago, are still typically lackluster.  Since my daughter gave up gluten and dairy 3 years ago, I gave up gluten as well.  Admittedly, her cystic acne cleared up  and I've never felt better.  Gluten is an inflammatory in the body and how it manifests can vary from acne to severe stomach issues and everything in between.
I've tried every type of pizza crust out there.  Quinoa.  Potato.  Gluten free pizza crusts.  Is it too much to ask for a crispy crust that can hold up to toppings if I so desire?  Well I've been working on this crust for about a month or two and finally got all of the details down pat.  I even managed to get the crust paper thin per my daughter's request.  I hope you give this recipe a try.  I made 4 good sized personal pizzas out of this recipe or 1 large and two smaller personal for reference.  Another great use for this crust — roll it as thin as you can, top with some Himalayan sea salt. Slice into bite-sized squares and bake.  ANDDDDDDD ~~~~~This crust makes a great crispy gluten free cracker for dips, hummus or just plain snacking.

Ingredients:
2 cups of buckwheat groats (sold in the bulk section at your grocery store)
1 cup of raw almonds
1 tablespoon of baking powder
1 tablespoon of nutritional yeast flakes
1 tablespoon of Italian seasoning
1 tablespoon of dried basil
1 tablespoon of dried parsley
A few shakes of red pepper flakes (if you like a bit of heat)
1 teaspoon of salt
1 teaspoon of garlic powder
1 teaspoon of onion salt
3 tablespoons of olive oil
4 tablespoons of warm water – or more if necessary
Directions:
Preheat your oven to 350 degrees.
Into your food processor, add your groats and blend down to flour.  Pour that out into a reserve bowl.  Then process your almonds into a flour.  Add your groat flour back into the food processor.  Then add the remaining ingredients and blend.  If the dough is super dry, add a tablespoon of water and blend until malleable.


The dough is naturally dry but sticks together when pinched.  It does not resemble a classic pizza dough.  Taste test it – adjust the seasonings if you wish.

I line my cookie sheet with a Silpat or parchment paper.  Spray that with coconut or olive oil.  Grab a handful of the dough and form it into a soft ball sized ball and press it down on your sheet.  Lay a piece of plastic wrap over top and take a large drinking glass and roll it gently over the top.  I think this crust is best paper thin.  If it cracks, simply pinch it back together.  If you care and want a perfect circular crust – just trim the edges and add the extra pieces back to your pizza dough and use it on your next crust you roll out.


Place your crust in the oven and bake for about 18-20 minutes or until the crust is golden around the edges.  Remove and let cool.  You can wrap up and freeze or you can top with your favorite pizza toppings and bake on a pizza stone, or baking pan/sheet for a few minutes until your cheese is melted or toppings are golden and heated through.  I used Fieldroast Chao vegan cheese on this pizza.


Into the full swing of my ultra training – my focus vacillates between distance, ascent work and time on my feet (after all this race I'm doing has a max. time limit of 24 hours and it may take us that long with the upness it poses).  With one day of running left this training week – here's my update:
Sunday: 12 outdoor miles
Monday: 10 treadmill miles/core work
Tuesday: 11 treadmill miles
Wednesday: Rest day.
Thursday: 22.22 outdoor miles
And I wanted to announce the winner of my Garmin giveaway and that lucky person is…
From Instagram this winner was chosen:  @haysayzay  You have 48 hours to email me at ro[email protected] with your U.S. mailing address.  Congrats!!!

— Knead to Cook