Balsamic Kale and Tomato Pasta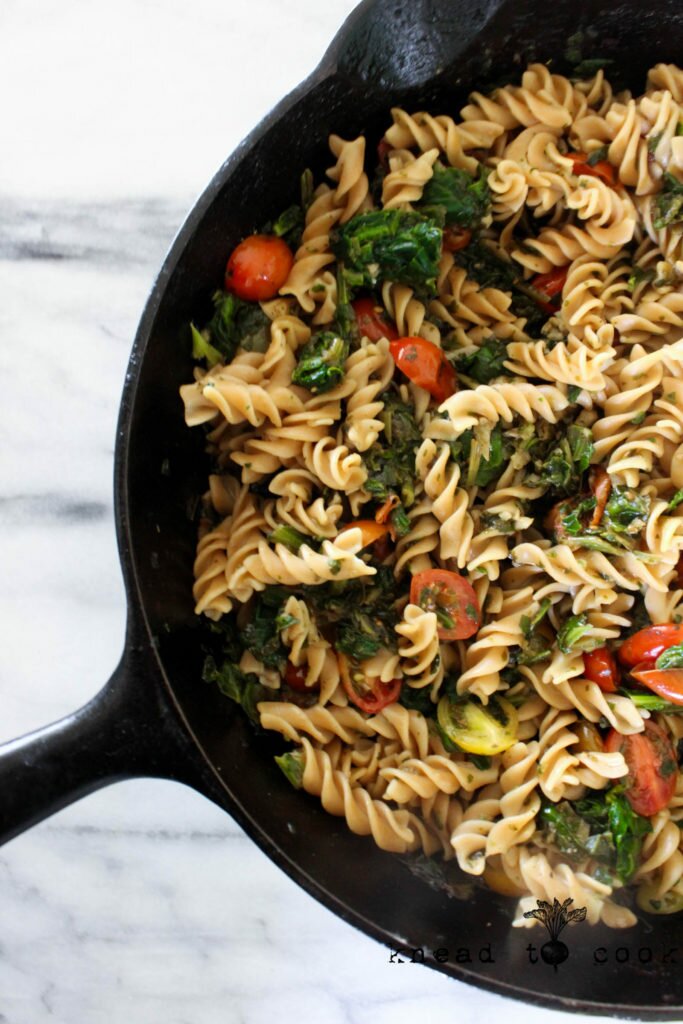 This week I've been working more days, still restricted hours, but early- I mean EARLY mornings. I'm running on fumes at this point and I needed a quick and easy dinner. This came together in under 15 minutes flat, protein and fiber packed…. and oh so good!

Ingredients:

1 box of lentil pasta (I used fusilli but any short pasta will work)
5-7 cloves of garlic, smashed and roughly chopped
1 cup of cherry tomatoes, halved
1 tbl of dried Italian seasoning OR I used a palmful of fresh oregano and thyme leaves roughly chopped
Salt
Pepper
Olive oil
1/2 cup of good balsamic vinegar
1 cup of frozen spinach or kale
Red pepper flakes

Method:

Cook the pasta according to package directions in salty water. Drain and set aside.

Into a skillet, add a glug or two of olive oil and get that heated up. Add garlic and the herbs. Stir often and cook for 2 minutes or so. Add tomatoes, greens and vinegar. Cook for another 2-3 minutes. Then add drained pasta. Stir to coat and reheat the noodles. I added a pinch of red pepper flakes but that's optional. Fresh basil would also be perfection. Serve with a nice crusty bread.
Options: If you don't have fresh tomatoes, sun-dried would be lovely.
You can use regular pasta and add 1 can of cannelloni beans for protein/fiber.
Artichokes (jarred or canned) would also be lovely in this dish.
Cooked mushrooms would be great!
Use what you have on hand and roasted leftover veggies would be a great addition.

~ox
— Knead to Cook