Veggie Burger. Vegan. Gluten Free.
Veggie burger. Vegan and gluten free.
Yesterday was my husband's birthday. This was post 2 days after our anniversary and homecoming. It was a busy weekend. Because his birthday falls on a Monday, and we went out this weekend for our anniversary, he requested vegan burgers for his special dinner. Done! This burger is sturdy and more like it's meat counterpart. You can even grill this burger without it falling apart – like many or most vegan burgers. This one is also packed with fiber and protein.

Ingredients:
2 tablespoons of ground organic flaxseed meal
1 can (14 oz) of organic black beans, rinsed and drained
2 large carrots, grated
1 handful of fresh parsley, roughly chopped
8 sage leaves, minced
1/4 of a medium sized yellow onion, diced
1 small jalapeño, diced with or without seeds – your preference for heat
1 tablespoon of optional Tabasco Chipotle Pepper Sauce
1/3 cup of either chopped walnuts, almonds or sunflowers seeds (in tact)
1 cup of gluten free rolled oats (processed in a blender/Vitamix until flour)
1/2 cup of gluten free bread crumbs or panko bread crumbs
1/2 teaspoon olive oil
2 tablespoons of amino acids or soy sauce
2 teaspoons of ground cumin
1 teaspoon smoked paprika
1 teaspoon of oregano
1 teaspoon of chili powder
1/8 teaspoon of ground cayenne
Salt and pepper
Directions:
Process your rolled oats in your blender or food processor until flour and set aside. Preheat your oven to 350 and line your baking sheet with a Silpat or parchment. Set that aside. In your stand mixer with paddle attached, blend your rinsed and drained black beans until a chunkier paste forms. Scrape the sides of the bowl down if necessary. Then add the remaining ingredients. The mixture should be thick and easy to form patties. This recipe yielded 7 patties for me. Bake for 15 minutes on each side. OR if you wish to grill, bake first for 10 minutes then grill outdoors for about 5 minutes on each side. Serve with regular burger fixings.
*Recipe is loosely based on Angela Liddon's veggie burger.
Okay so the fitness front update…
Today is the last day of September and I'm so happy to have finished over 100 miles of running. My overall pace was slightly slower for the month thanks to my hot and humid running trip to Texas. Overall my runs felt stronger in the past two weeks and I'm hoping that my mojo is coming back. Pins come out in 11 days and then I can start progressing with distance training (well more than 8 miles) again.
This journey has taught me that I've enjoyed running in the 8's much more than pushing aggressively and only focusing on my time in the hating 7's. I never anticipated the journey to be this long and painful but I'm learning to embrace what I can do and see it as a victory each day that I'm able to run/bike and workout. This month has definitely given me a glimpse of strength versus last month but I certainly have difficult, tired days. My cycling miles were a bit down because we were away in Texas and only rode 10 miles there on rented mountain bikes. Hoping I get another full month in before I start using the trainer indoors due to the cold but who knows. I suffer from Raynaud's and I think biking in the cold won't be happening for me.
I'm looking forward to getting my new Mizuno Wave Riders that are being released in a few days. I lost of pair of sneakers in a mudslide/pit in Texas and have been relegated to my old wave riders. Thankfully they're holding on 🙂
Some fun pics from the weekend..
18 years strong.
Post homecoming pics and too late to make it to church – we hit up our favorite pub and had dinner outside.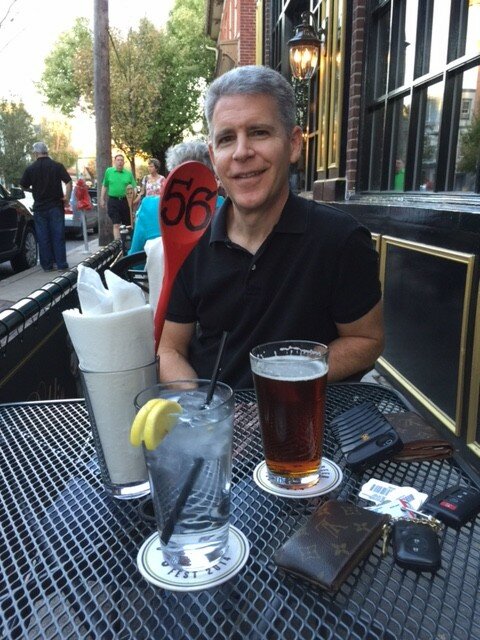 That's it from here. Hope you're all ready to kick off October tomorrow!
~oxo
— Knead to Cook