Turmeric Roasted Nuts. V. GF.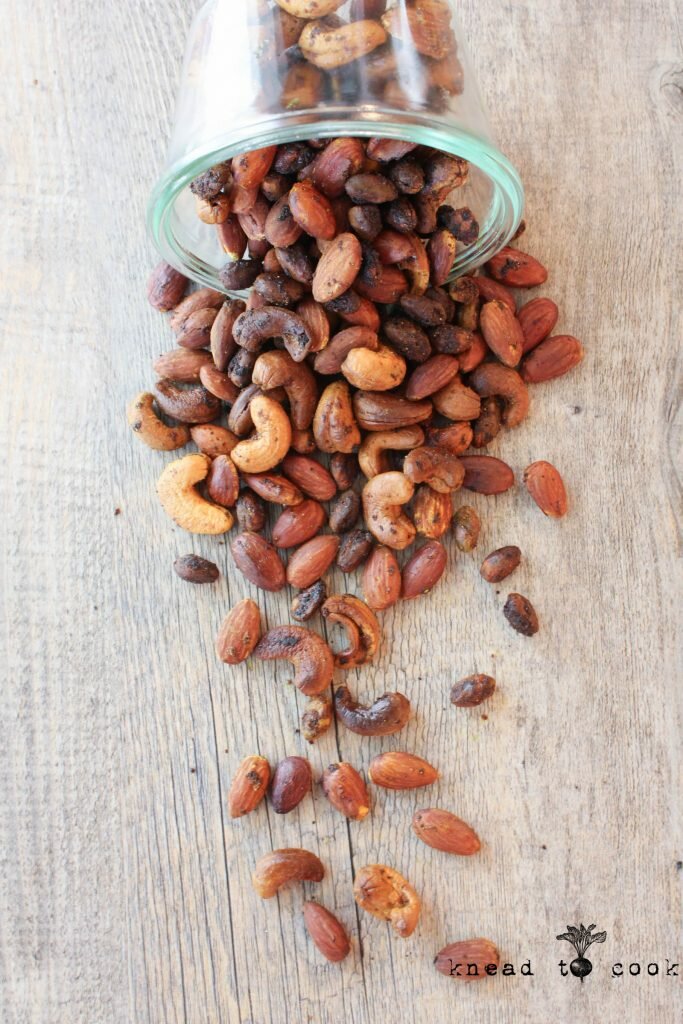 I've been cooking up a storm lately trying to finish up food jobs and some recipes for my family.  My knee surgery is tomorrow and I'll be on bed rest for 2 weeks so the more food I can prep the better.  Plus I promise to be sharing recipes I created during my healing.
So let's get into the recipe.  I love turmeric.  I add it to my breakfast smoothies and decided to roast some of my favorite nuts with it.  Turmeric is know for its anti-inflammatory properties as well as being known for fighting cancer.  I'm doing anything to aid in my healing.  Plus when your body is recovering from workouts and surgery – your body needs protein-rich foods.  These have a lovely flavor that is very addictive.  You can use any nut that you love in this recipe – suggestions for baking in the recipe.  I used pistachios, cashews and almonds. Okay so time is ticking away and I need to get into my herb box to plant before the rain comes back.
Perfect snacking option for your summer travels or to keep in your car or purse for snacking ideas.  These nuts also ship well and package up nicely for a homemade teacher/special gift idea.  Enjoy!

Ingredients:
1 cups of pistachios
1 cup of almonds
1 cup of cashews
1 teaspoon of turmeric
1 teaspoon of smoked paprika
1/4 teaspoon garlic powder
Pinch of salt
2 tablespoon of melted coconut oil
1 tablespoon of maple syrup
Directions:
Preheat the oven to 350 degrees.  Line your baking sheet with a Silpat or parchment paper and set aside.
Place all of your nuts into a large mixing bowl.  Add your spices to the bowl.  In a separate bowl combine your melted coconut oil and maple syrup – whisk together.  Pour the oil/syrup mixture on top of the nuts/spices and toss to coat.  Pour the nuts onto your prepared baking sheet and spread out into an even layer.  Bake for 10 minutes then give them a good toss.  Bake for an additional 10 minutes or until the nuts are golden.  Keep an eye on the nuts as smaller ones will burn. Adjust baking time as needed.

Store in a glass jar with a lid in a cool, dark place or in your refrigerator.


— Knead to Cook