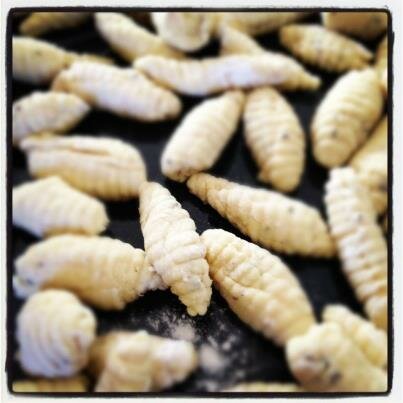 These tender little dumplings are my favorite!  In fact, most of my family adores these garlicky little bites.  I've been using this recipe, a bit of a deviation from my grandmother's potato gnocchi, for years.  These are super easy to make and in no time, you have the most delicious dinner ready to impress!  They also freeze beautifully if you double the batch.
Ingredients:
8 oz part skim ricotta cheese
2 eggs, room temperature
1/2 c freshly grated parmesan
2 garlic cloves, grated
1 tsp salt
1 tsp pepper
1 tsp garlic powder
1 3/4 -2 c all-purpose flour
In your stand mixer with the paddle attachment on, combine all of the ingredients through the garlic powder.  Then you will add 1 3/4 cups of all purpose flour.  If the mixture is still too sticky, add the additional 1/4 cup.
Then remove the dough and place on a floured surface.  Divide it into 4ths.  Take the first ball of dough and work it into a snake shape about 1/2 inch thick.  Slice into 1/2 inch pieces.  If you have a gnocchi board, run the dough down the board to achieve the gnocchi shape with the groves.  If not, roll the dough down the tines of a fork.  You will get the hang of it the more you do it.
I place the rolled out gnocchi on a cookie sheet.  You can either freeze (then after about an hour bag them to freeze for a longer duration), store in the refrigerator until you're ready to cook and cook immediately.  In a large Dutch oven, fill about 3/4th of the way filled (you should always boil pasta in a large amount of salted water) and gently place the gnocchi in the boiling water.  Don't overcrowd and work in batches.  When they float to the top, they are done.  See picture below.
Then top with you favorite sauce.  Pesto is also wonderful with these 🙂
My sauce recipe can be found here:
https://kneadtocook.com/?p=768
— Knead to Cook