Purely Elizabeth Granola Breakfast Cookies. Vegan. GF.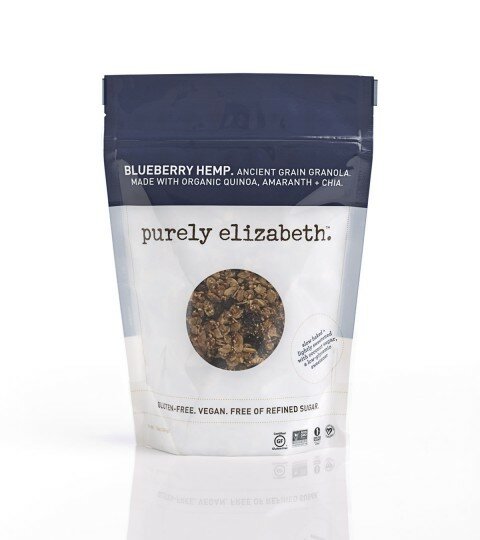 Purely Elizabeth is my favorite granola ever.  Seriously, I eat it daily.  My favorite is to top my green smoothie with it.  It's so good.  I also love to carb load with it prior to long runs paired up with some fresh fruit and nut milk.  But be warned, it's addictive.  Seriously.  So when Purely Elizabeth sent me products to work with- I knew I wanted to create a fun breakfast cookie with the granola that would be awesome for back-to-school.  School starts tomorrow for my youngest so I'm ready.  Just in the nick of time.
c/o
Ingredients:
2 cups of gluten free rolled oats
1 cup of gluten free rolled oat flour (just process your oats in your food processor or Vitamix until flour is achieved)
1 cup of Purely Elizabeth granola (any flavor will work)
1/3 cup of coconut sugar
1/2 teaspoon salt
1/2 teaspoon baking powder
1/2 teaspoon baking soda
1 very ripe banana
1/3 cup of maple syrup
1/3 cup of coconut oil, melted
Directions:
Preheat your oven to 350 degrees. Line your cookie sheet with a Silpat or parchment paper.
In a large bowl, blend your oats, oat flour, granola, sugar, salt, powder and soda.  Whisk to combine. Meanwhile, in your stand mixer, add your banana and process until mashed completely.  Then add maple syrup and coconut oil.  Blend until combined.  Then pour this wet mixture over the dry mixture and give a good stir. Once combined, using a scoop – scoop out the wet dough onto your prepared pan.  Bake 14-16 mixtures or until golden brown.  Remove and let cool on the cookie sheet and then store in an airtight container.

Sunday: Rest
Monday: 8.22 speed miles/strength training
Tuesday: 12 outdoor miles

— Knead to Cook