Pumpkin Cupcakes with Madagascar Vanilla Frosting. Vegan and Gluten Free.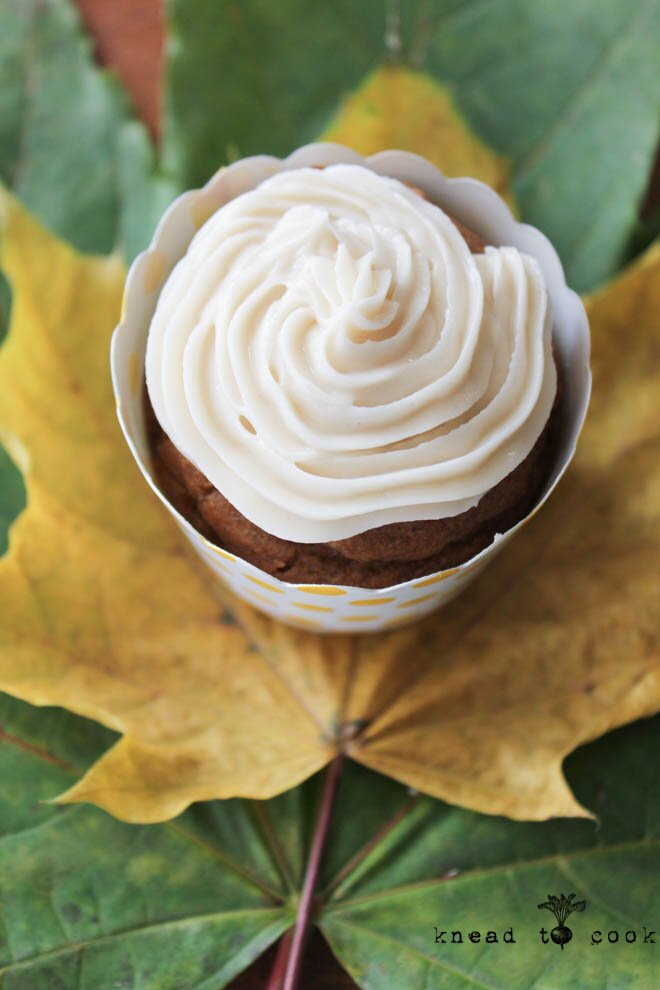 Yesterday was pretty close to perfection in my food world.  I was at my favorite health food store and stumbled upon Bob's Redmill's gluten & dairy free 1 to 1 baking flour that they just released.  This is like winning the lottery for me as I've been dying to try it but have been too busy to order it online. Then once I got home, I received two containers of a vegan/gluten free icing that I was asked to sample.  Dollop Gourmet and I met up on Instagram and it was instantly love.
Today I had NO appointments. A rare day.  I've been planning and plotting my Thanksgiving menu (well the vegan/gf options) and these will undoubtedly be on the dessert menu. The flour is heavenly!  I'm not exaggerating.  It doesn't have the weird gluten free aftertaste. It tastes like regular all-purpose, NORMAL flour!  You have no idea how happy this makes me.  Plus its a one-to-one conversion so I can take my normal recipes and go for it.  I'm smitten.
Now to pair that awesome flour up – these pumpkin cupcakes HAD to have some icing.  I topped them off with the Madagascar Vanilla icing.  Unbelievable!  It is so good that I had to walk away!  I think I could sincerely eat all 10 cupcakes I made if I didn't have some will power.  If I ran 10+ miles I may have given myself a pass but I didn't today so it wasn't happening.  And I did make these for my oldest and I know she is going to love them.  Both reviews are NOT being sponsored.  These are both products that I will stock my pantry with and use daily!
Now onto this yummy recipe…
Ingredients:
1/2 cup of unsweetened almond milk
1/2 cup of canned pumpkin puree
1 tablespoon of vanilla paste or you can use 2 teaspoons of vanilla extract
4 tablespoons of Earth Balance vegan butter – melted
1 tablespoon of Apple Cider Vinegar (I use Bragg's)
1 cup of Bob's Redmill Gluten Free 1 to 1 baking flour
1/2 cup of coconut palm sugar (or brown sugar)
1/2 teaspoon salt
1/2 teaspoon baking powder
1/2 teaspoon baking soda
1/2 teaspoon of ground nutmeg
Directions:
Preheat your oven to 350 degrees.  Line or spray your muffin pan and set aside.  This recipe  yields 10 muffins.  Into your stand mixer with paddle attached, add your almond milk, pumpkin, vanilla, melted butter and cider vinegar.  Blend until combined.
Then in a separate bowl, whisk the remaining dry ingredients from flour through nutmeg. Then add that to your wet mixture and blend until combined.  Scrape the sides down and blend one more time.
Using a melon scooper, I fill each muffin cup about 60% filled.  Repeat.  Then bake for approximately 20-24 minutes or until a toothpick inserted comes out clean.  I keep a watchful eye from about 18 minutes on.
The finished cupcakes need to sit and cool before icing.
I had to taste test it before adding it to my cupcakes. Insanely good.  Like so good… you can just eat it out of the container sans cupcakes.  Yeah, I did just say that!
Annnnnnnd we're done! Sadly I was out of piping bags and improvised.  I'm a not a professional baker and the taste is more important than how perfect the icing looks to me.
On the fitness front…
This week I've logged 24 miles of running. I also got my two weightlifting sessions in.  I have two more runs to do this week but I may run tomorrow and take a rest day Saturday.  A friend asked me to pace the last 6.2 miles of a marathon she's doing Sunday.  She needs no pacing as she qualified for Boston the first marathon she did by a ton of time.  I'm expecting the speed demon to achieve her goals again.  So I may cheer or I may pace… awaiting details from her.
Lots of love.

— Knead to Cook