Oatmeal Fiber Energy Balls.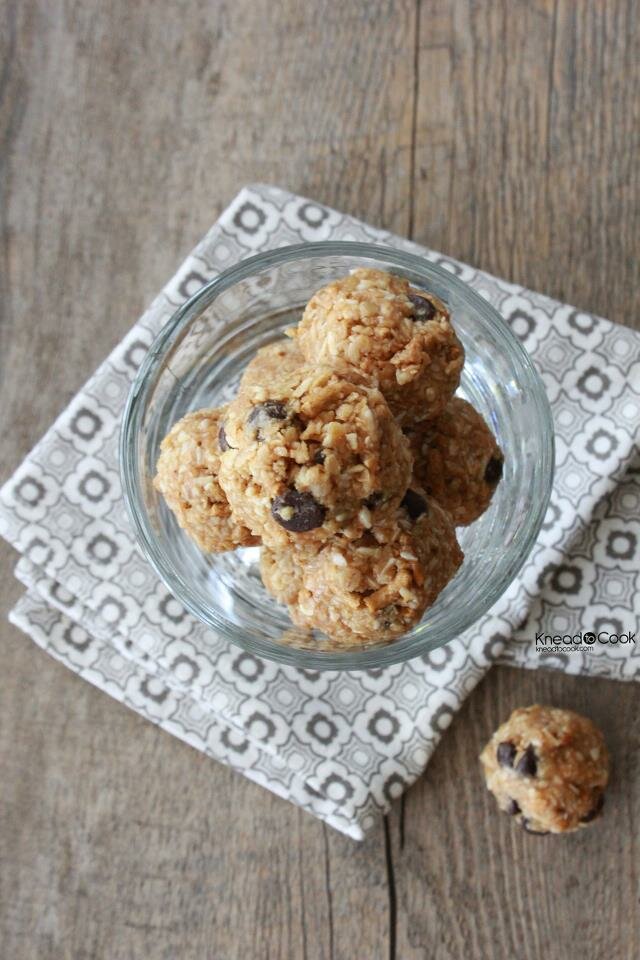 I think I could survive on energy balls.  Any recipe… whatever the flavor.  I heart them all.  Hey, we all have our thing, right?  I bought some fiber cereal at the grocery store and thought I would whip up a few recipes using the cereal. The fact is, we all need fiber to keep things moving in the right direction (gross, but true!).  These are super delish and already my kids are downing these little treats fast and furiously.
Ingredients:
1 cup of old fashioned rolled oats (I use gluten free organic)
2/3 cup of toasted coconut flakes
1/2 cup of nut butter (almond, peanut – whatever you have on hand)
1/3 cup of agave, maple syrup or honey
1.5 teaspoon vanilla extract
1 tablespoon of protein powder (I used vanilla Designer Whey)
1/4 cup of fiber cereal
Chocolate chips (I used dark chips) – amount is up to you 1/4 to 1/2 cup
Directions:
Combine all ingredients into your stand mixer or large bowl.  Blend.  Refrigerate for at least 30 minutes to one hour.  Scoop out with a small melon baller.  Store in the fridge or freezer.  Watch the magic – they disappear!
— Knead to Cook