Purely Elizabeth Banana Nut Butter Muffins. V. GF.
When Purely Elizabeth reached out to me to ask if I would like to try their new grain-free, over-the-top, new granola —-well of course I would!  They promptly sent me two flavors (1 Banana Nut Butter and 1 Original Grain-Free Granola), both of which are heavenly and totally addictive.  I created two different recipes, this being the first I wanted to share as they released the product online today!  These muffins were made exponentially better but the crunch from the granola clusters.  These muffins are packed with healthy, delectable goodness that your whole family will enjoy.

Ingredients:
1 flax egg – One tablespoon of ground flax meal mixed with 3 tablespoons of water (stir and let sit for 4-6 minutes)
¼ cup of creamy and looser consistency peanut or almond butter
2 ripe, larger bananas
3 tablespoons of maple syrup
3/4 cups of gluten free rolled oats (I prefer Bob's Redmill)
1/4 cup Purely Elizabeth Banana Nut Butter granola + extra for topping
1 tsp. vanilla extract
1/2 teaspoon of ground cinnamon
½ teaspoon baking soda
Directions:
Recipe yields 14 mini muffins.
Preheat your oven 375 degrees.  Spray your muffin pan with coconut oil and set aside.
Into your food processor, add your oats and pulse several times to break them down to more of a chunky flour consistency.  Then add your flax egg, nut butter, bananas, syrup, vanilla, cinnamon and baking soda.  Blend until combined.  By hand, stir in the granola clusters only breaking them up slightly.  Using a ice cream scoop, ladle the batter into each muffin tin.  I placed some granola clusters on top of each muffin then bake.


Baking time is approximately 15-18 minutes or until a toothpick inserted comes out clean.  Let them cool completely before serving.


Hot from the oven.

Thank you Purely Elizabeth for sponsoring this post and giveaway.  
One lucky fan of Knead to Cook can win 2 bags of Purely Elizabeth's grain-free granola (1 Banana Nut Butter and 1 Original Grain-Free Granola) sent directly to their door.
To enter:
U. S. residents only.
Leave a comment on this post.
Dates:  Open for entry from April 7th through Sunday, April 10th.  A winner will be announced Monday, April 11th.  The winner must contact me within 48 hours with mailing address or a new winner will be selected.


I'm embracing this week of struggle.  I'll be honest, I've been suffering more with my restless leg syndrome with my higher training mileage weeks.  I was trying some magnesium to help which was causing me to feel horrible.  I wasn't sleeping.  Felt groggy.  Looking forward to meeting my new doc next week to find a solution.  Between that and significant fatigue of high mileage training week after week prepping for my ultra… struggle bus time.  I will not sugarcoat it.
Sunday: 13.1 windy, 30 mph, day
Monday: 15.01 outdoor miles
Tuesday: 12 treadmill miles/weights/core
Wednesday:  Rest day.
Thursday:  27 outdoor miles (start time: 3:30a)
I accidentally ate my husband's running fuel with gluten and not mine at mile 11.  I was sick by miles 13 & 16.  Rain arrived at mile 22.  I managed this and I don't know how to be quite honest but I'll take it.
What I'm wearing: Lucy Activewear cloud breaker top in white/rain jacket. Garmin Fitness Fenix 3 HR. Pro compression tall marathon socks.  Vega energizer I use on my run and recovery I use post run.  I am an ambassador for each company listed.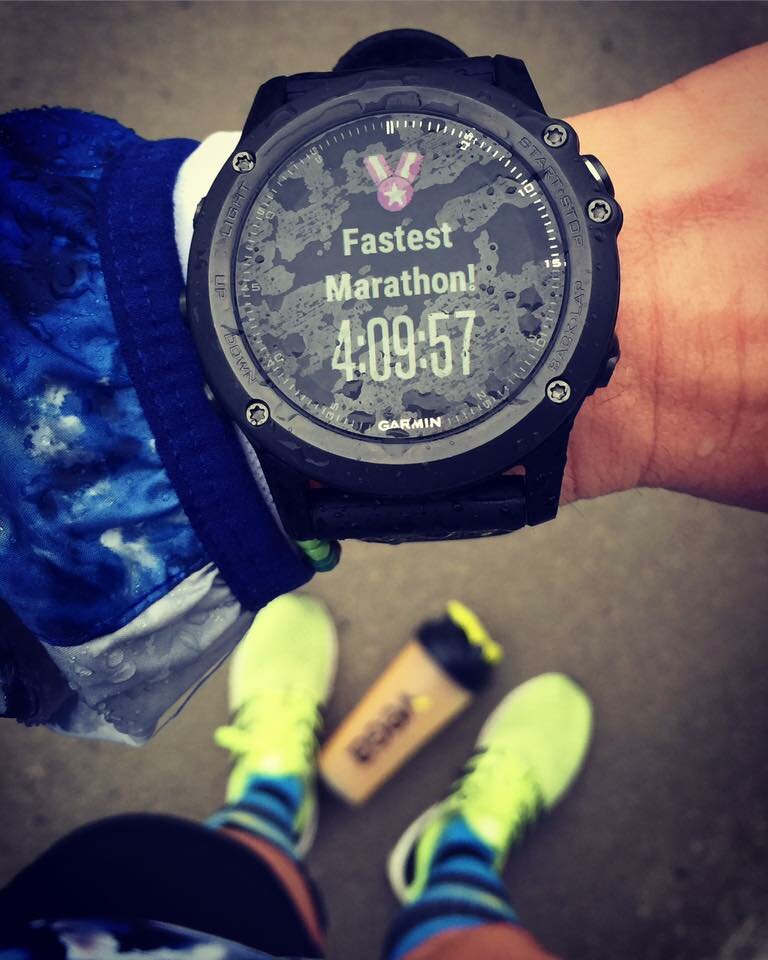 Love & miles,


— Knead to Cook