Let's talk training and Vega Sport fueling. Plus a giveaway!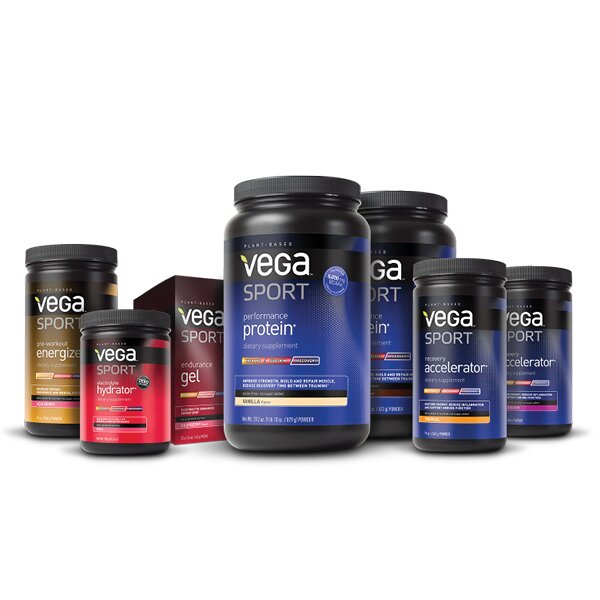 I was thinking about how long it's been since I went vegetarian and then vegan.  I became a vegetarian 3 years ago and one month.  It was shortly after that, about 5 months, that I realized dairy was wreaking havoc with my stomach.  My husband suggested I tested out removing it.  Once I did, it was the most enormous change in the way I felt.  The way I preformed.  The way I looked.  But my next big question was… how do I train on a vegan diet?  How would I get enough protein to rebuild muscles and turn them over fast enough for training.  I'm not a fan of processed foods.  I avoid ingredients I cannot identify.  So I turned to my running friends/advisors that help me all the time and they all suggested Vega.  I made a few connections and my journey with Vega Team began there.
I train 6 days a week.  Strength.  Running. Cycling.  I have trained for my second full marathon completely fueled by a vegan diet in March with over an hour personal record.  Training now for something larger.  I eat completely plant-based with my fitness fuel all from Vega Sport exclusively.  Now I'm running about 40-45 miles per week.  Strength training 2-3 times per week.  Cycle once per week with my husband.  It's relentless but I love it.

Thanks to my partnership with Vega, and sharing some of my favorite recipes that I've created with their products – I have an opportunity to share their awesomeness with YOU!  Training plans for strength and for running– whatever distance you're looking for.  FREE of charge!  How exciting!  PLUS one lucky winner will receive:  Vega Sport Marathon Training Kit – 2 x Performance Protein, Pre-Workout Energizer, Recovery Accelerator, Hydrator which is currently on sale for $233.94!
So let's break all of this down… the training sign-ups are completely FREE for anyone, wherever you are in the world.    You can sign up for one or both here.
Free Running/Strength & Conditioning Training Plans
2 different series of free multi-week Training Plans emailed to you. Choose from Running or Strength & Conditioning –
Yes, you can sign up for both!
· Sign up here
So what can you expect from the guides?
· Meal & Fueling plans
· Training plans
o 10K Race
o Half-Marathon
o Full-Marathon
o 4 Week Strength + Conditioning
· Detailed Workout Series
· 25+ Tasty (and functional!) recipes
· Grocery Lists
· Workout and Nutrition Difference Makers
· Playlists to pump you up and rock your happy pace
· Curated articles by health experts
· … FAQs, Infographics, and SO much more!
Once signed up, you'll receive the following PDF downloads (15-25 pages each):
Running Program:
· Week 1: Long Slow Distance Runs
· Week 2: Tempo Runs
· Week 3: Hill Runs and Speedwork
· Week 4: Shakeout Runs
· Week 5: Cross-training
· Week 6: Rest Days
· Week 7: Longer Slow Distance: End of Training Plan
· Week 8: Race Day!
An example training plan:

Strength Program: 
· Week 1: Develop a stronger core and improve full-body strength
· Week 2: Build lean muscle and reduce body fat
· Week 3: Strengthen your conditioning and endurance
· Week 4: Recover faster
· Week 5: Improve speed, agility and quickness
· Week 6: Enhance explosive power
Building strength training into your running agenda is key to keeping you strong.  Signing up for both programs, again free of charge, can be done here.
Contest Details:
U.S. or Canadian residents only with a mailing address (no P.O. boxes).
Winner must email me within 48 hours of notification ([email protected]) to claim your prize.  If the winner fails to comply, a new winner will be selected.
The prize will be sent directly to the winner by Vega.
Okay so information overload.  How do you enter?  See below:
a Rafflecopter giveaway


So my update on my Vega Sport training is as follows:
Monday: 6.52 treadmill miles/strength training
Tuesday:  13.6 outdoor miles (heart rate training)
Wednesday: Traveling/rest day
Thursday: 10 outdoor miles
Friday: 10 outdoor miles
Saturday: 10 outdoor miles
Weekly total:  50 running miles.
Happily all fueled by my Vega Sport Energizer/Recovery/Protein Powder and Mint Chocolate Bars (which are addictive) along with chocolate maca bars.  Heavenly!  

— Knead to Cook