Lentil Picadillo. Vegan. Gluten free.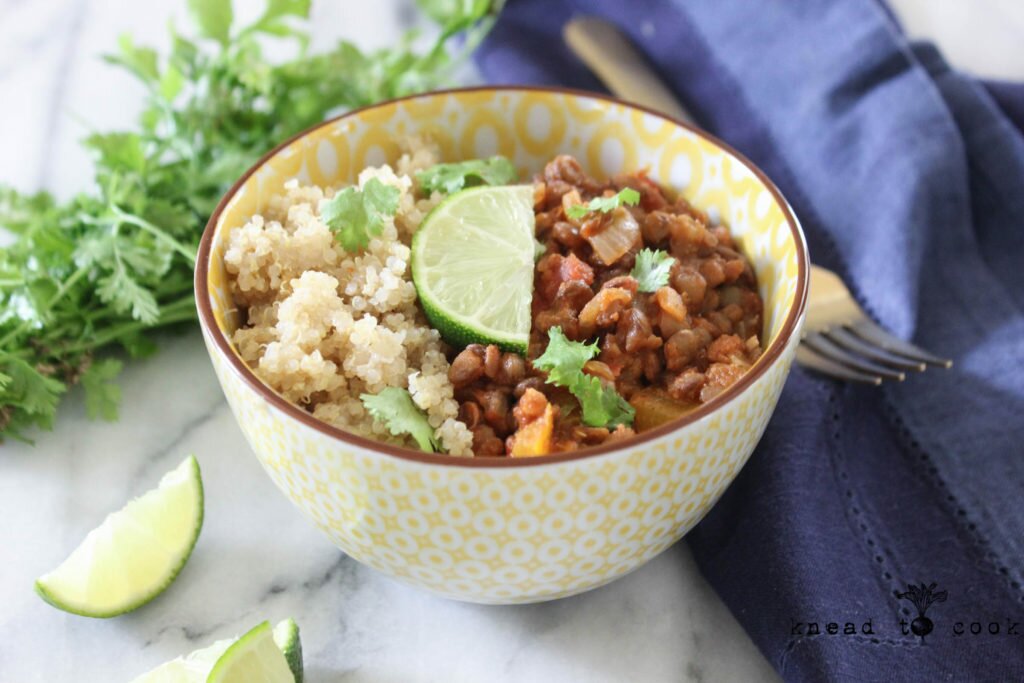 This is my first attempt at vegan Picadillo, inspired by a dish I had at Tocaya Organica in South Beach Miami twice last week (we couldn't get enough). Not having experience with this dish, I researched several recipes online and was most inspired by this one.
This dish cooked up really fast, without a lot of babysitting – which is always appreciated. I paired it up with some quinoa I cooked up in my Instant Pot for extra protein. Brown rice would also be perfection. This dish was really good but I look forward to adding some diced sweet potatoes/carrots in my next attempt for an extra veggie punch.
I've been experimenting a lot with my diet lately – I'm perpetually experimenting. True story. My husband took this dish as leftover taco "filling" for lunch on Wednesday and he loved it. Balancing protein, fat and carbs in each meal will leave you satiated for a longer period of time & help squash the mid-afternoon snack attack. He said he remained filled till he got home for dinner. I'll take that as a win and I'll be adding to my lunch menu options. I do love a good lentil dish 🙂
Ingredients:
1 cup dried brown lentils
3 cups water
2 tablespoons olive oil
1 medium onion, diced
1 bell pepper, diced
1 jalapeno or spicy pepper, diced —optional
6 garlic cloves, minced
1 -28 oz can of fire roasted diced tomatoes
1 tablespoon red wine vinegar
1 teaspoons of liquid smoke
1 tablespoon ground cumin
1/2 tablespoon of smoked paprika
1 teaspoon dried oregano
Method:
Combine lentils and water in a medium saucepan and bring to a boil. Once boiling, reduce the heat to a low, low/medium heat and allow it to simmer for 25 minutes. Then drain in a colander and rinse with cold water.
In the meantime, add your olive oil to a larger sauté pan and heat over med/high heat. Then add your diced onions and peppers. Coat the bottom of a large skillet with oil and place over medium heat. Add onion, bell pepper and spicy pepper if using. Sauté for about 8-10 minutes, stirring occasionally Then add your garlic and cook for 1-2 minutes.
Next up, add lentils, tomatoes, red wine vinegar, liquid smoke, cumin, paprika & oregano. Stir to incorporate. Cook over low/medium heat for about 12 minutes or so. Then remove from the heat. Add salt & pepper to taste.


And then enjoy! I topped with fresh cilantro and lime wedges but it's totally optional.

Sunday: 4 outdoor, beach miles/30 minutes weightlifting
Monday: Travel day (dog walk only when we got home)
Tuesday: 30 minutes weightlifting/30 minutes cardio (my youngest was having her wisdom teeth removed)
Wednesday: 51 minutes weightliftting/core and 45 minutes walking uphill on the treadmill
Thursday: 5 outdoor miles running, weightlifting with kettlebell for 20 minutes

— Knead to Cook