Lean ground beef & spinach lasagna roll ups.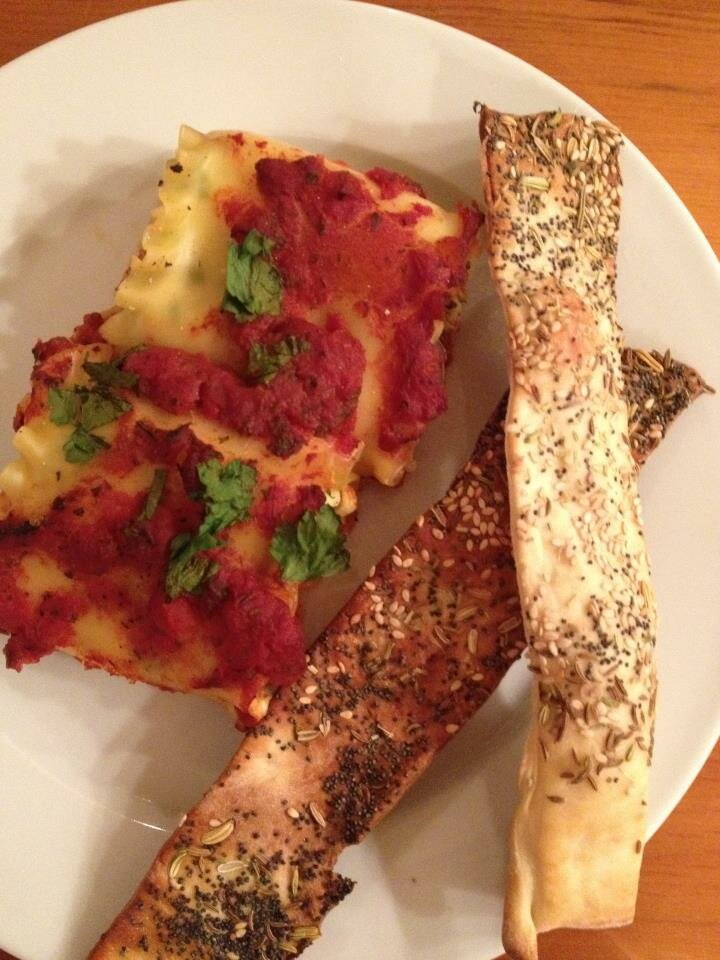 These lasagna rolls are so delicious!  You can make these ahead of time and just pop them in the oven for 30 minutes before you wish to serve dinner.  Doesn't get any easier than that 🙂  And for a vegetarian option, just omit the beef and add cooked spinach to the ricotta mixture.
Ingredients for filling:
15 oz of low fat, part skim ricotta cheese
1 c of low fat mozzarella, shredded
1/4 c of grated parmesan
Salt and pepper to taste
1 egg, lightly beaten
Mix all of the ingredients together and set aside.
Beef & spinach mixture:
1 lb of 92% lean ground beef
2 handfuls of organic baby spinach
5 cloves of garlic, minced
Olive oil for the bottom of the pan
Directions:  Add the olive oil to the pan over a medium flame.  Then add the beef.  Cook until no longer pink.  Add salt and pepper to taste.  Then add garlic and cook for about 1 minute.  Then add the spinach leaves and stir.  The leaves will wilt and the mixture will be complete.  Set aside to cool.
Pasta:
Boil the lasagna noodles according to the package directions until al dente.  Then lay out pieces of parchment or tin foil and lay each noodle, when cooked, out to cool.  Don't overlap b/c they will stick together.
Sauce:
1/2 c olive oil
1 medium onion, diced
6 garlic cloves, chopped
1 tsp sea salt
1 tsp ground black pepper
1 (28 oz) can of Cento or Furmano's diced tomatoes
1 (28 oz) can of Cento or Furmano's chopped tomatoes
1 can of tomato paste
2 bay leaves
2 pinches of red pepper flakes
2 tsp of Italian Seasoning
1 tsp of Oregano
In a Dutch oven, heat the oil over a medium flame.  Once hot, add the onions and stir for about 8 minutes.  Add garlic for 30 seconds.  Add salt and pepper, both cans of tomatoes, paste, bay leaves, and the remaining seasonings.  Turn the flame down as low as it goes, cover and simmer.  Stirring occasionally.
Assembly time!  Once everything is prepared you can begin…
Ladle some sauce onto the bottom of your roasting pan.  This will serve as a bed for the noodles.  Then take your long lasagna noodle and lay it out on a cutting board.  Spread your ricotta cheese filling very thinly along the entire noodle.  Then add about a tablespoon of the meat/spinach mixture to one side of the noodle (first 3 inches of it) on top of the ricotta mixture.  Begin to roll up the noodle and then place it seam side down in the sauce. Repeat until you've used up all of your ingredients.  Then top with the remaining sauce.  You can add fresh parsley to the top if you like.  You can either bake at this point or refrigerate.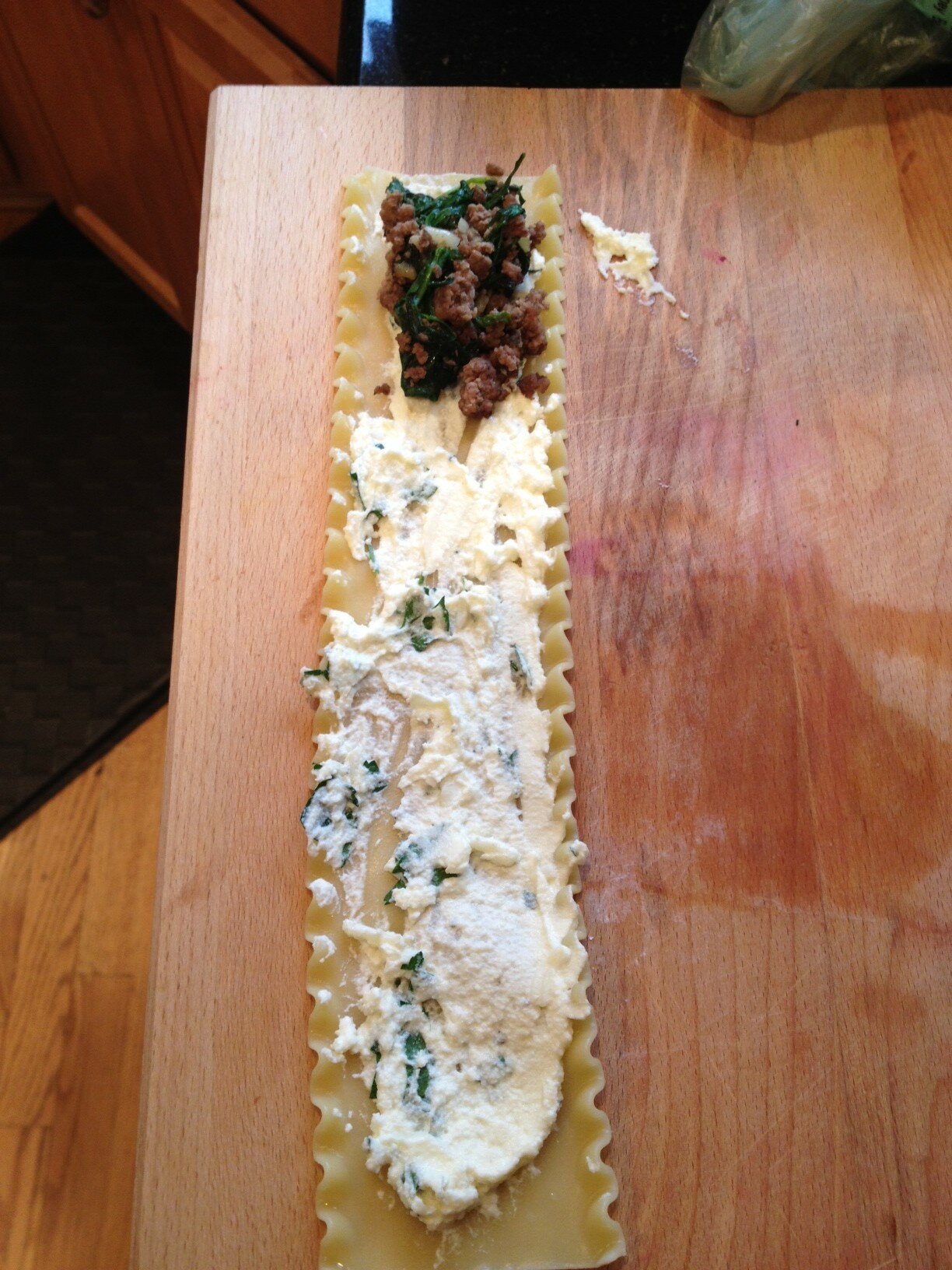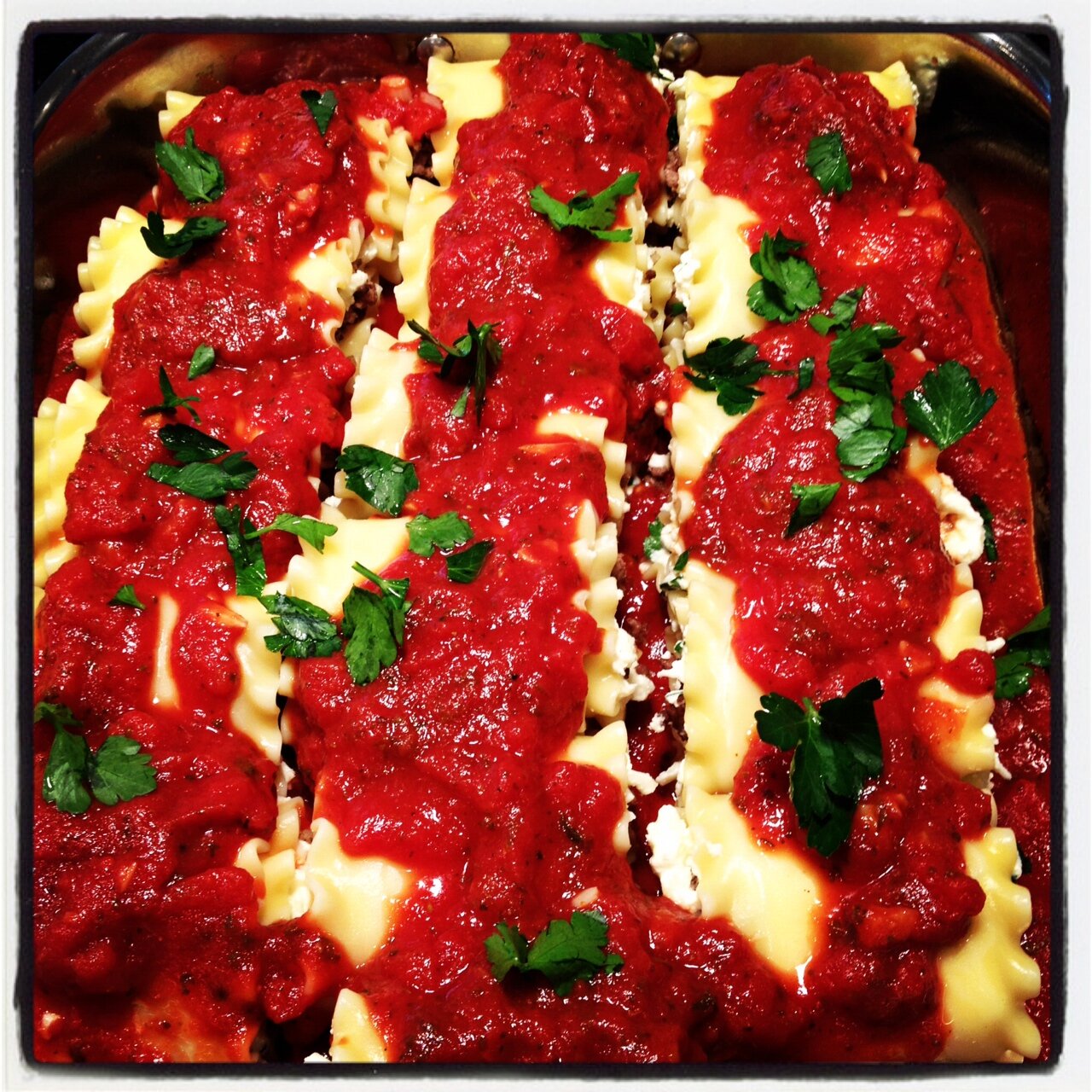 In a 375 degree preheated oven, place your lasagna roll up tray.  Bake for 30-45 minutes or until hot.  Enjoy!
— Knead to Cook