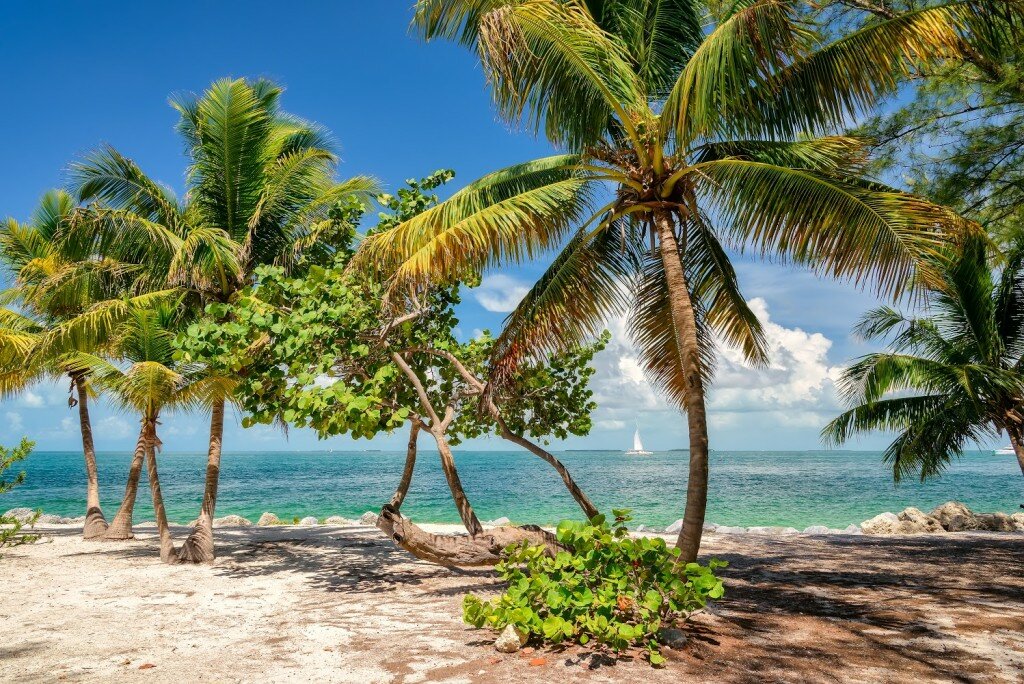 Our amazing sunset from our hotel.
I've had wonderful opportunities to travel to the Keys multiple times as a child right up through my adult life.  I always enjoy either a week-long sojourn or a weekend away from the snow and frigid temperatures of Pennsylvania. My girls love it.  My husband and I find it very tropical and relaxing.  Honestly, how could you not?  We had a recent, quick, secret get-a-way and I'm excited to share some background and travel info with you all for planning your holiday getaway.  I also am thrilled to share my vegan recommendations that are musts on our dining lists while in they Keys.

The Florida Keys is home to five districts, each with their own personality and attractions that make visitors feel like they are a world away.
Growing up in Florida, Chef Bobby Stoky quickly learned about the beautiful ingredients and flavors of the state and how to cook them. In 1982, his parents became the owners of Señor Frijoles Mexican Restaurant and so started Bobby's path to becoming a chef.
Bobby's family moved to Key Largo in the seventies because his father became a charter boat captain. A resident of the district for over 35 years, he is sure to be an expert in all that must be done in the area. And today, he was our guide to all things that must be seen and devoured in Key Largo.
The northernmost district of The Florida Keys, Key Largo, is home to tropical views and beautiful botanicals. The site of the John Pennekamp Coral Reef State Park, Key Largo is a true outdoor adventurer's paradise. Because of where it is located, any visitor to Key Largo must spend a considerable amount of time in the clear waters. Bobby suggests paddle boarding in the picturesque Everglades National Park or diving off the coast.

Key Largo's beautiful scenery has made it the ideal location to shoot a multitude of movies, and it hosts Humphrey Bogart's Film Festival every year. For movie buffs and avid fishers, Key Largo is also a perfect destination for food travelers looking for the lowdown on Key Lime Pie.
The Stoky family went on to open other restaurants and today Chef Bobby runs the kitchens of eight different legendary restaurants in Miami and The Florida Keys. One of his most popular locations, Sundowners, sits right on the Florida Bay in Key Largo and offers guests a beautiful view of the sunset with a tropical cocktail. Chef Bobby even wrote a book that is a great reference for the cuisine of The Florida Keys called, Recipes and Tall Tales from Legendary Restaurants of the Florida Keys.


Head to Key Largo to stay in a magical-feeling an underwater hotel, or to scuba past schools of fish and submerged statues. Bobby recommends travelers looking for adventure stay in Jules Underseas Lodge. Submerged underwater, it is a truly stunning stay. Instead, if you are hoping to spend your time in the water rather than simply under it, consider Amy Slate's Amoray Dive Resort. And finally, for couples who need a romantic getaway, book a stay at Key Largo's Kona Kai. Beachfront bungalows offer the perfect amount of privacy in close proximity to the beach.
So what kinds of fruits and flavors can one find when they travel to Key Largo? Bobby admits that visitors will find plenty of tropical fruits in dishes, like the Key lime, mangos, pineapples, starfruit, or dragon fruit.
As a diver, Chef Bobby has grown up with the stunning reefs of the Florida Keys. His favorite spot to dive or snorkel is in north Key Largo off of Horseshoe Reef. There is so much marine life to be seen on the reefs of Key Largo, so when you come to the area, be sure to dive in and get a closer look. For an above the water experience, take a nature tour by way of kayaks through one of the mangrove channels that line the islands. From a boat you can see colorful fish, impressive manatee, and an array of birds. Keep your eyes open, sometimes you will even see bottlenose dolphins or turtles.
A great feature of Key Largo for any culinary traveler is its lack of chain restaurants. Chef Bobby proudly admits that most of the restaurants found in the district are owned and operated by locals who are committed to serving great food.
Another restaurant that is one of our favorites that I wanted to share is…
Ballyhoo's
97860 Overseas Highway
Key Largo 33037
(305) 852-0822
Located in a Conch House from the 1930's, Ballyhoo's enjoys catering to the vegan/vegetarian community (the General Manager is vegan!). They have a separate menu that is dedicated to vegan/vegetarian dining. All items are made from scratch, right down to the ketchup. From Grilled Avocado to Sweet Potato Burgers to Black Bean Burgers with Spicy Cucumber and Red Pepper Relish to House Vegetable Curry to homemade desserts, the menu is sure to please.
I hope this gives you some wonderful holiday inspiration to visit the Keys. It is by far, one of our favorite destinations that is filled with wonderful food, excursions, palm trees and incredible beaches.
#sponsored
— Knead to Cook