Cherry Sage Toasted Quinoa.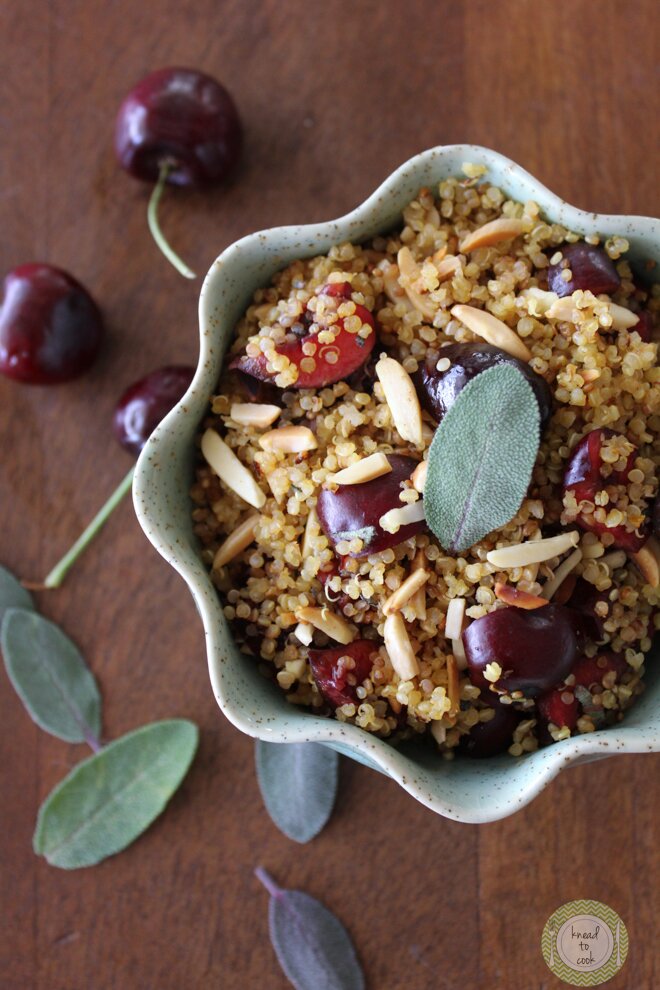 After a busy morning and what seemed to be endless doc appointments, I was thrilled to get home and cook something and wait for it…. blog about it!  Seems like a rare event lately.  Summer is just so hard with crazy schedules.  My day started out with an early doc appointment so I got an early workout in – 4 fast miles (see below) and then weights.  After that was swim, tennis and then the orthodontist.  Running lunch/dinner to my daughter who is lifeguarding all day… does this sound familiar?  Well swim season ends Saturday (my daughter qualified for a championship meet in backstroke) and after that – we are on vacation!   I cannot wait to breathe for just a moment in time.
This afternoon is quiet in my house.  I wanted to whip something up with all of the cherries I've been buying ($1.99 lb) and I cannot resist!  I thought this recipe sounded perfect and it turned out so good… I keep sampling it and need to stop!  I have a food problem, actually, I have an eating problem.  I cannot stop!  Would make a great breakfast – yes, just add a touch of maple syrup or you can eat it for lunch or as a side for dinner.
Okay so without further adieu…

Ingredients:
1 cup of organic quinoa
2 cups of vegetable broth
Salt
1/2 cup of cherries, washed and pitted
8 sage leaves, finely sliced
1/4 cup of toasted almond slivers
Directions:
In a dry pan, add your almonds over a low/medium flame and toast.  Keep stirring so to avoid burning.
In a measuring cup add your dry quinoa and cover with cold water.  Let soak for about 10-15 minutes.  In the meantime, get a large sauté pan with a few tablespoons of olive oil heated up over a medium flame.  Addressing the quinoa, rub in between your fingers to remove the bitter outer layer.  Then drain into a sifter or small colander and run cold water over top.  Once drained, add to your hot oil/pan.  Toast the quinoa for about 10 minutes, stirring until golden.  See photo below:
Once toasted, add 2 cups of the broth, lower the temp to low and cover and cook for 16 minutes.  After 16 minutes, let sit for 5-7 minutes with no heat.  Fluff afterwards.
While cooking the quinoa, pit and halve the cherries.  Once the quinoa is done, add the cherries, sage leaves and almonds.  Give a good toss.  Add salt as necessary.  Serve or store in refrigerator.
I used fresh sage leaves from my garden.

Today's speed run.  I was happy with it.  

And happily I noticed that I had already hit 100+ miles for July and it's only July 24th!  Looking forward to banging out several more miles for July's total.  My focus for August won't be running but biking for two weeks so I wanted to really load up on my mileage for July.
— Knead to Cook