Cheesy Spinach Dip. Vegan. GF.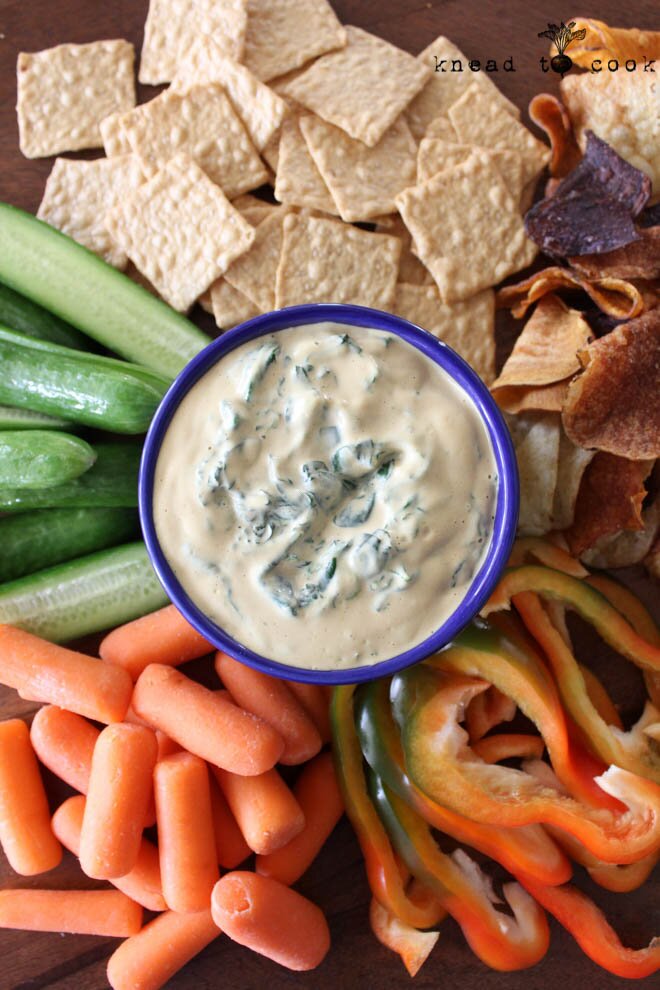 Fall & football seasons are upon us.  It's the best time of the year (in my opinion).  The weather in Pennsylvania turned a bit cooler, crisper after a very rainy Saturday.  The air just felt cleaner and the skies bluer by Sunday.  Football was on and I wanted to create fun dip that everyone could enjoy – as my family runs from hardcore carnivores to vegans.  This dip won over everyone over.  #MeatlessMondayNight #SideLineMeat
This dip uses Silk Cashew Milk (unsweetened) for a great creamy texture.
Ingredients:
1.25 cups of raw cashews (soaked in water for at least 4 hours to overnight) then rinsed and drained
3/4 Silk Cashew Milk (25 calories per serving, unsweetened)
1/2 cup of nutritional yeast (Bragg's makes a great one)
3-4 cups of loosely packed fresh spinach, chopped
1 teaspoon of smoked paprika
1 clove of garlic, peeled
Salt and pepper to taste
Directions:
Into a high speed blender, add your drained cashews and Silk Cashew Milk and blend until creamy. See picture below:

It will be a thick consistency but creamy.
In the meantime, I cook the spinach down in a pan with a tiny bit of olive oil.  This should only take a minute or two. Then place in a strainer and push the water out of the spinach.  This should take a few good pushes with the back of a spoon.  Amazingly, a ton of water will be removed.


To your blender, add the nutritional yeast, garlic, paprika and a pinch of salt and pepper (add more salt after the mixture is blended).  Once you have the base ready and seasoned to your liking pour that into a serving bowl and hand-blend the spinach in with a spoon.  Serve with crackers, raw veggies, veggie chips, pretzels, baguette of bread or whatever you prefer.

Being dairy-free, this is a dip perfect for your football watching party as you don't need to worry about temperature.  Honestly people will eat it so quickly, that won't be a concern.  Looking for more sidelining meat recipes for your next gathering click here.
I think I'll be trying this sauce/dip over some elbow pasta (gluten free) as a cheesy sauce for dinner for another option.  Thinking Meatless Monday with added protein without meat.
This conversation is sponsored by Silk. The opinions and text are all mine.
#ad #sponsored

— Knead to Cook