Whole Wheat Banana Blueberry Chobani Bread.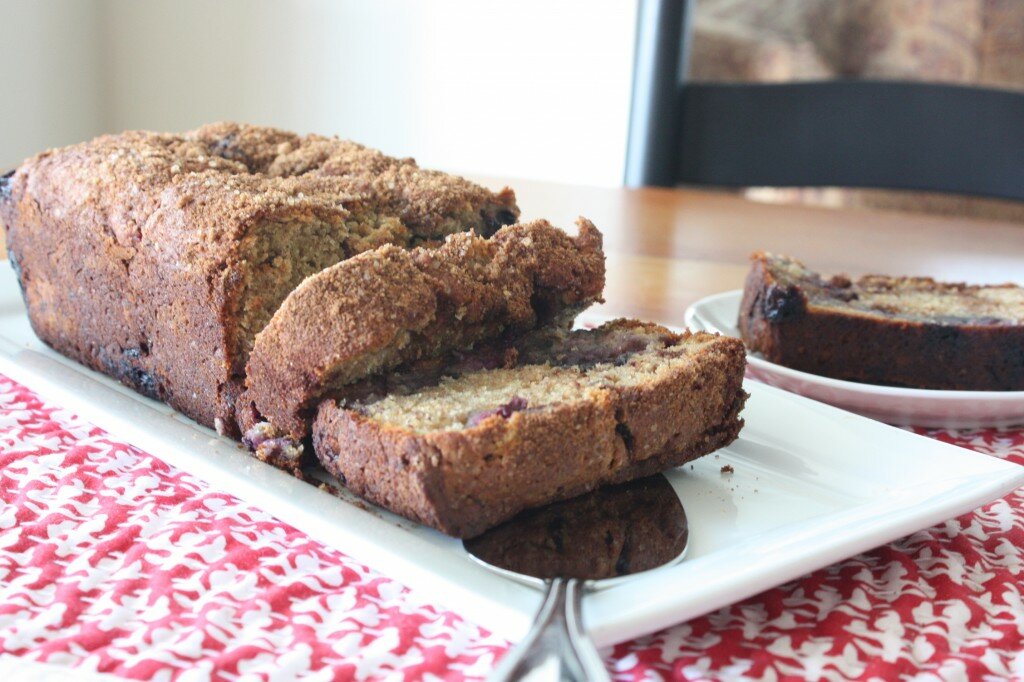 We love banana and blueberry bread… so I whipped up this blend and it turned out great- in fact less than 24 hours later only one slice remains!
Adding Chobani for protein and added moisture along with the addition of whole wheat flour, this nuttier, heavier version is perfect for breakfast or a snack.
Ingredients:
3/4 cup of sugar
1/2 cup of butter
2 eggs
1 cup of whole wheat flour
1 cup of all-purpose flour
1/2 tsp of salt
1 teaspoon baking soda
3 over-ripe bananas
1 teaspoon of vanilla extract
1/2 cup of Chobani vanilla or plain yogurt
1 cup of blueberries (washed and dusted with 1 teaspoon of flour)
Directions:
Preheat the oven to 350 degrees. Spray your loaf pan with baking spray with flour and set aside.
Cream together the sugar and butter in your stand mixer, paddle attached. Beat in the eggs, one at a time, beating well after each addition. In a separate bowl, whisk flour, salt and baking soda. Then add the dry mixture to the wet. Blend without over-mixing. Then by hand, mix in the blueberries. Gently fold in, avoid breaking up the blueberries.
Gently scoop the batter into the loaf pan. Bake for 40-45 minutes or until a toothpick inserted into the center of the loaf comes out clean.
— Knead to Cook