Strawberry Oatmeal Coconut Cookie Bars.
Cleaning day at home and I decided to whip up something fun for the kid's after-school treat.  We just bought some fresh strawberry jam from our favorite strawberry farm that we pick/buy our berries from and I thought this would be a great way to use it 🙂
Ingredients:
1 cup of all-purpose flour
1 cup of rolled oats
1/2 cup of light brown sugar
1/4 teaspoon baking soda
1/8 tsp of salt
1/2 cup of butter or butter substitute, cut into pieces
1 cup of strawberry jam
3 tablespoons of toasted coconut
3 tablespoons of slivered almonds, toasted (or any other nut you prefer)
You can also top with chia seeds (sprinkled on top by hand)
Directions:
Preheat your oven to 350 degrees.  Spray your 8×8 pan with non stick baking spray.
In your large mixing bowl, add the flour, oats, brown sugar, soda and salt.  Using a pastry knife or your hands, blend in the butter pieces.  It will resemble a very crumbly mixture.   Press 3/4ths of the mixture into your prepared pan.  Push it down so it's firmly packed.  The spread your jam over the top, evenly to the edges.  Then top with the remaining mixture.   Add the coconut, almonds or whatever nuts/seeds your prefer.  Press that down as well so it's firmly packed.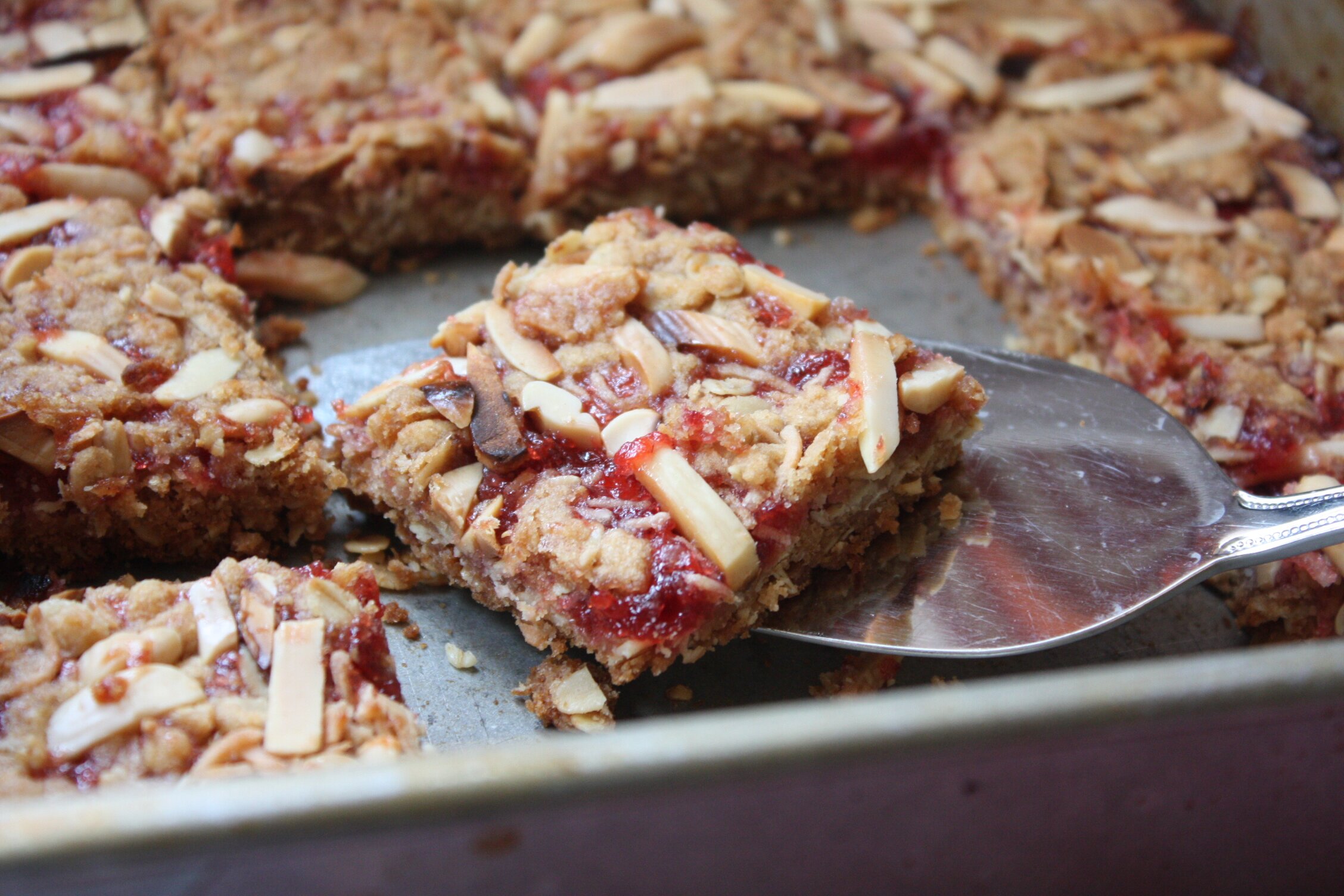 Bake for 34-38 minutes or until golden.  Remove and let cool.  Slice and enjoy!  Store in a sealed container.
— Knead to Cook