Smoky Marinated Flaxseed Tempeh.
Happy 2nd Monday of the week. Ha!  I always feel that way when we have Monday off… Tuesday by default becomes the Monday of the week.  Fighting to get everyone (ummm I mean my youngest) out of bed.  School. The bus.  Practice.  Are you with me?
Well I started marinating this tempeh on Sunday.  Baked it on Monday and added it to mixed greens for a nice dinner.  I try to steam and marinade several blocks of tempeh on the weekend so that I just need to cook it during the week and use it for tacos, a sandwich, paired with quinoa or for a bowl.  Tempeh, when cooked properly, is very flavorful and packed with vegan protein. I'm not a tofu or seitan fan so I'm pretty much relegated to tempeh but I don't mind.  It is a favorite of mine.
Ingredients:
1 block of tempeh (I used flaxseed tempeh)
3 tablespoons of Bragg's Liquid Aminos
1 tablespoon of apple cider vinegar
2 tablespoons of maple syrup
2 teaspoons of smoked paprika
1 teaspoon of red miso paste
1/2 teaspoon garlic powder
Fresh cracked pepper
Directions:
First, you need to steam your block of tempeh.  I first begin by slicing it into about 8 slices.  You can slice it or cube it.. whatever you prefer.  In a saucepan, I insert a steamer basket and once the water is boiling, add the tempeh.  Cover it and steam for 12 minutes.  Remove from heat and let cool.  While that is steaming, I whisk all of my ingredients in a bowl or tupperware and then add the cooled tempeh.  Cover and shake gently to coat. Refrigerate for 12-36 hours.  You can pan fry in a bit of olive oil or bake in the oven at 325 degrees for about 15 minutes.  Flip then bake again for another 15 minutes.  You can serve it in a bowl with rice or noodles and other veggies.  Over mixed field greens.  Paired up with quinoa.  It's very versatile. You can even crumble it and use it in tacos.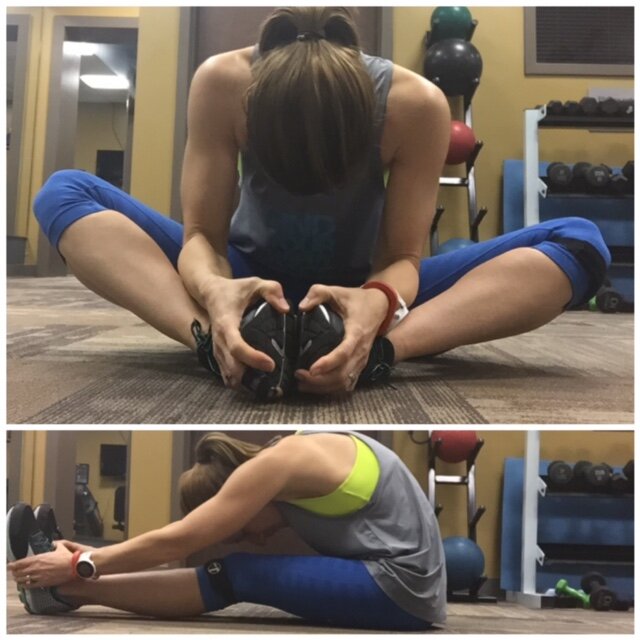 Today was a gym day.  I planned on doing a progressive run meaning that with each mile post warm-up you go faster.  So today looked like this:
Mile 1:  8:17
Mile 2:  8:02
Mile 3: 7:53
Mile 4:  7:52
Mile 5 cool down: 8:06
Then weights and a lot of stretching, as seen above.
Totals:
Sunday: 14 miles
Monday: rest day
Tuesday: 5 miles/weights/balance/core
That's it from here.  Back to work.  It's been a very exciting and tearful morning.  Happy tears because of amazing people in my life.  You know who you are! oxo

— Knead to Cook