Mango & Veggie Quinoa Salad with a Lemon Vinaigrette.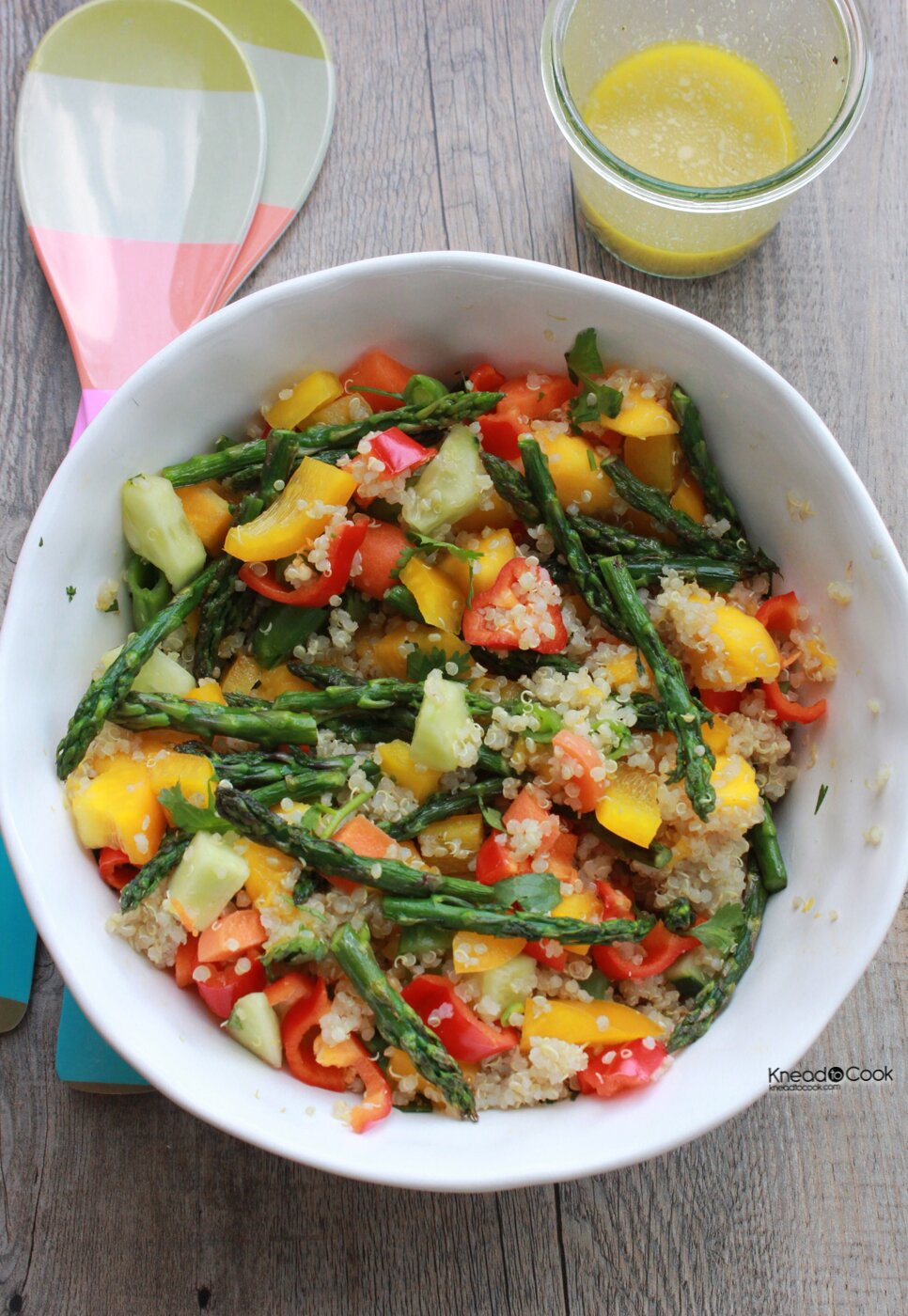 Vegetarian. Vegan. Fabulous! I'm totally embracing our warm weather. This salad screams summer! This can be made ahead. Perfect for a weeknight dish (just add a protein like grilled chicken, shrimp or fish) or as a vegetarian dish. Great to take to a party. I love the clean freshness about this salad and you will too!
The flexibility of this dish is fabulous without a doubt. If you wish to not use one veggie, substitute another. Add what you have, omit what you don't. Make it your own.
Ingredients:
1-2 cups of cooked and cooled organic quinoa
1 bunch of asparagus
2 mangoes, pitted, peeled, diced
1 small cucumber, peeled, diced
1/3 cup of sugar snap pea pods, washed and cut into thirds
3 green onions, diced
1 yellow bell pepper, diced
1/2 red bell pepper, diced
1/4 cup of washed and roughly chopped cilantro
1/2 of a seeded jalapeno
Vinaigrette:
1/4 cup of a good quality Extra Virgin Olive Oil
3 tablespoons of fresh lemon juice
1/2 teaspoon dijon mustard
3/4 tsp of cilantro
1 shallot, minced
Salt and Pepper
Directions:
First, make sure your quinoa is completely cooled (can be prepared a day ahead). In a sauté pan with a tiny bit of olive oil, turn the heat on medium and let it get nice and hot. Wash and trim your asparagus (I only used mainly the tips), toss them in the pan and let them cook for about 2-3 minutes. Then remove and let cool. While cooling, to a large bowl, add the quinoa and all of the other veggies, fruit, herbs etc. Then add the asparagus when cooled.
While that sits, in a container with a lid (tupperware works well) add the vinaigrette ingredients and cover. Shake… a lot! Then pour over your salad and refrigerate for at least 30 minutes to let the flavors mingle. Serve and enjoy!
— Knead to Cook