Kung Pao Chickpeas with Brocolli. Vegan. Gluten Free.
A long time ago I used to love Kung Pao chicken.  I thought it would be fun to recreate the recipe with chickpeas and it turned out great.  And to be honest, I started marinading these on Monday and didn't get around to making them until yesterday at lunch.  One I forgot about them in the snowstorm/delayed school -kids being home throwing my schedule off -period. Then Tuesday was a repeat of Monday with the weather/delay etc.  Then I jinxed myself Tuesday night (after I couldn't get to my daughter's swim meet due to a conflicting doc appt.) that everything would resume to a normal state on Wednesday.  Yeah.  NO!  I was awakened yesterday by my youngest who had a raging fever and in conclusion (and withholding all the nastiness) the flu.  Once on Tamiflu, and my oldest off to school with laryngitis, I got to address these babies marinating in the back of my fridge.
Despite everything else in my week not going as planned, it turned out that marinading these for 3 days was the best thing.  The chickpeas absorbed fantastic flavor and I have to admit, once I sat down with a bowl of them… they were the best thing I had in days.  It made two nice servings for a main vegan course or would easily be a side dish for 4-5 people.  This dish turned out so good.
Ingredients:
Start here with the chickpeas and marinade…
Chickpeas/Marinade:
1 can of organic chickpeas, drained and rinsed
4 tablespoons of Bragg's liquid aminos or low sodium soy sauce
1 lime, juiced/zested
2 tablespoons of coconut oil, melted
1 tablespoons of maple syrup
1 teaspoon of chili oil
1 teaspoon of sesame oil
1 tablespoon of cornstarch
**
The day you are ready to cook…
Sauce:
Olive or coconut oil – 2 tablespoons or so
3 tablespoons of Bragg's liquid aminos or low sodium soy sauce
2 tablespoons of red wine vinegar
2 tablespoons of rice wine vinegar
4 cloves of garlic, minced
1  – 2 inch nub of fresh ginger, peeled and finely grated
Pinch salt
Red pepper flakes
1 lime juiced
Other ingredients:
1/4 cup of whole cashews
Jalapeño, diced
Directions:
You need to make the marinade first.  Drain and rinse your chickpeas.  Let them sit aside.  Then in a tupperware container, whisk the marinade ingredients and then add the chickpeas.  Give them a good shake every time you go into you fridge and think of them.  Cover and refrigerate 1-3 days.  The longer you let marinade, the better.
The day you are ready to make the dish…
In a small saucepan over low heat, whisk the sauce ingredients until well-combined then turn off the flame.
Take your marinaded chickpeas and drain/rinse.  Let that sit there for a moment in your colander.  In a large saucepan, heat the oil and add the garlic.  Sauté for a moment.  Then add your chickpeas and brown them as seen below.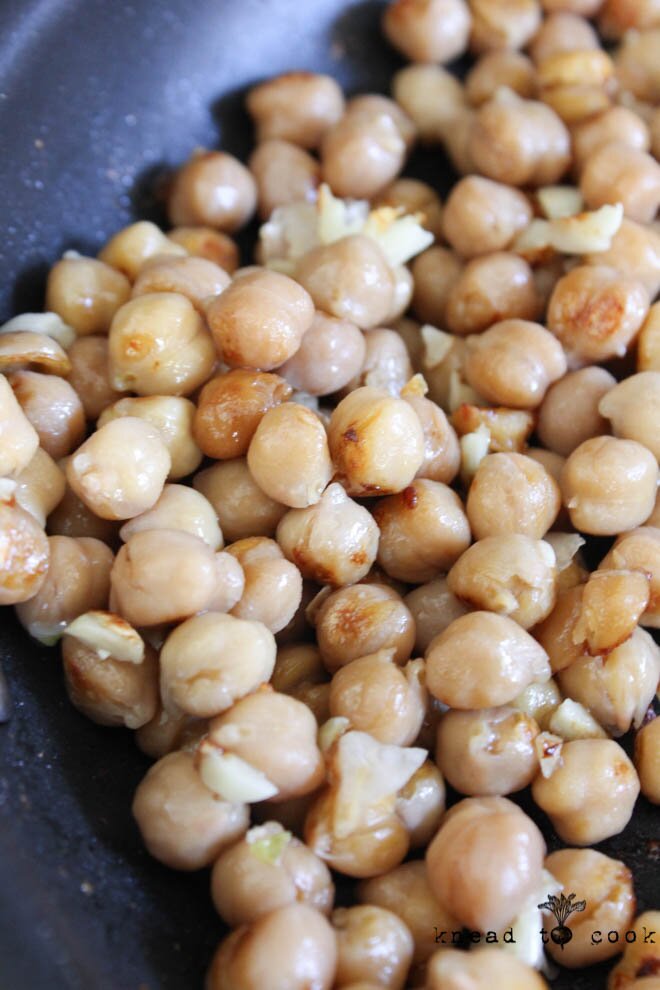 From there add the remaining ingredients. Once combined, add your chickpeas, cashews, jalapeños and lime juice.  Give that a good stir.  Then add your sauce and toss to coat.  Heat throughout.


In the meantime, steam some broccoli florets or whatever veggie or rice you wish to pair with this dish and set aside.  Add the two and in a bowl and enjoy!
YUM!

Today my left patella has just been nagging me. The outdoor temps at 5 am were around 11 degrees and I opted to go to the gym and do my training run.  The bitter cold just annihilates my finger with the screw in it and my wrist that is still healing.  So I may have wimped out but I got the miles in.  Tomorrow's weather looks a bit warmer (yes 30's are warm) so I'm plotting out the remaining runs that I have to get in for the week.
Also, I wanted to happily announce on my blog (I did earlier on my Instagram account) that I was named one of the 2015 Pro Compression Ambassadors.  I'm beyond excited, humbled and thrilled to join such an incredible group of runners and to work with a company that I'm extremely passionate about.  I wear and have worn Pro Compression compression socks faithfully for about a year.  I've fielded many questions about my socks with each IG post I make.   These socks work to keep compression on your calves when working out and post workout to help reduce swelling, increase blood flow and promote healing.  I wear them post runs, especially long runs, and sleep in them. I manage to wake up after a long 14 or 16 mile run with no leg pain.  I love them!  I also use them when cycling.  Not just for running.  #keepittight
I'll also be sharing discount codes with you all and maybe a giveaway sooner or later.  Stay tuned!
Fitness update:
Sunday:  16 icy, fun miles
Monday:  Rest day
Tuesday: 5 miles
Wednesday: 3.25 speed work
Thursday:  5 miles treadmill – progressive run (8:29, 8:20, 8:15, 8:07 and 7:53)
Wishing you all a blessed day!

— Knead to Cook